Music 101 for Saturday 20 March 2010
Saturday 20 March
2-3pm
Nick Bollinger turns his ears to the new triple album from harp playing art-song savant Joanna Newsom
and Trevor Reekie speaks to the "Father Of The British Blues Movement", John Mayall. He has a staggering 57 albums to his credit. Some of the biggest names in Rock have passed through his band, including Eric Clapton, Mick Taylor, Jack Bruce, Peter Green, Mick Fleetwood, Aynsley Dunbar and John McVie.
John Mayall now in his late 70s is still a bluesman and is still on the road. Trevor Reekie asks about his special relationship with New Zealand ahead of a tour in April. listen here
3-4pm
Hollie Smith talks about her new album, Humour And The Misfortune Of Others listen here
New York anti-folkster Jeffrey Lewis sings cynical yet humourous tales of the modern condition. listen here
And we speak to Daniel Hart and Annie Clark of St Vincent.
4-5pm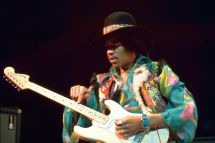 4:10 pm Electric Ladyland Part 1 of 2
Join host Stuart Grundy as he takes listeners through the making of The Jimi Hendrix Experience's third and final studio release, Electric Ladyland. Released in 1968, it was Hendrix's only #1 album in the U.S.A. He died two years later.
This exclusive radio special documents the making of the influential album and features interviews with Mitch Mitchell, Noel Redding, Eddie Kramer, Elvin Bishop, Velvert Turner and a host of others. listen here
And we report back from the Pacifika festival at Western Springs, Central Auckland last weekend, and hang out with pianist and rapper Anonymouz, A.K.A Matthew Faiumu Salapu. He's on the bill for a sixth straight year and his tales of growing up and making music in Mangere are compelling.