Music 101 for Saturday 6 March 2010
Saturday 6 March
2-3pm
The Fourmyula were called the 'New Zealand's Beatles' in the mid 60s, for being the first local band to insist on recording their own songs. The successful results led to the U.K., and even recording a few songs at Abbey Road. The complete Fourmyula catalogue - including the previously unreleased fourth album 'Turn Your Back on The Wind' has just been released. In Access All Areas we hear from Wayne Mason and Carl Evensen ahead of The Fourmyula's reformation gigs later this month. listen here
Nick Bollinger reviews another career-spanning collection - that of the Pop Mechanix.
And we visit the Arch Hill Records 10th birthday BBQ, and find out more about this strong NZ indie label.
3-4
James Mercer of the Shins talks about working with Gnarls Barkley's Brian Burton (Dangermouse) on Broken Bells, the collaborative project that sees the pair bonding over Beatles albums, and drenching themselves in 60s psychedelia and vintage organs.
We catch up with unpredictable and innovative band The Mint Chicks, who released their rubber USB stick EP 'Bad Buzz' with a Beatles style roof-top gig complete with daring feats from Kody Neilson. We also speak to the people behind Musichy.pe - a web-site facilitating a creative dialogue between fans and acts.
And Swedish band Irya's Playground talk about running away with the circus. listen here
4-5 pm
Musical Chairs featuring Barry Leef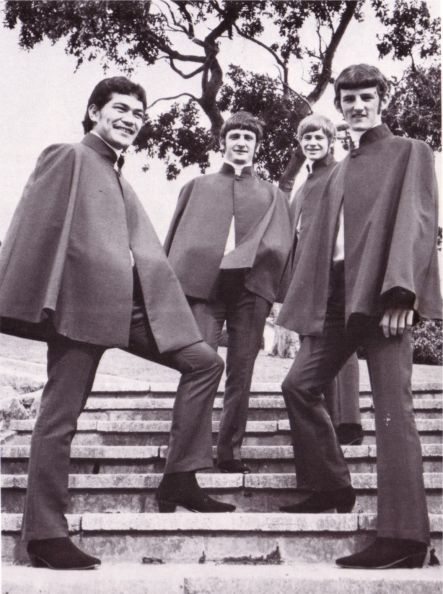 This Blenheim lad began his professional music career with Simple Image. (pictured - Barry is on the right.) After several hits including Spinning, Spinning, Spinning, Leef tired of sickly sweet pop songs and swapped places with the lead vocalist of Christchurch unit Retaliation. He moved with them to Australia.
Being asked to join Frank Zappa's band propelled Barry Leef into the limelight in Australia and soon he was in demand for residencies and an endless string of studio sessions for other people's records and jingles.
Since then he's fronted top local bands Crossfire and Supermarket and continues to play the traps after 40-years fronting three different bands. listen here
And Nick Bollinger reviews the interpretations on two new albums of covers from Peter Gabriel and the Hotrats.