Music 101 for Saturday 27 February 2010
2-3 pm
Casablanca Records: From their daring first signing of KISS, through the discovery and superstardom of Donna Summer, the Village People, and funk master George Clinton and his circus of freaks (Parliament Funkadelic), to the descent into the manic world of disco Casablanca's meteoric success and eventual collapse is a compelling tale of ambition, greed, excess, and some of the era's biggest musical acts. For Access All Areas this week Trevor Reekie talks to Larry Harris, Executive Vice President and co-founder of Casablanca Records. Listen here
Earl Gateshead is a selector and leader of Trojan Sound-system, the official sound of Trojan Records UK, the label that is largely responsible for excavating the rich heritage of reggae in the Caribbean. Dubhead gets together with him to flick through some rare 7 inch singles.
3-4 pm
DJ, broadcaster, music journalist and TV host Nick Dwyer is Making Tracks overseas again to investigate more underground music scenes - we speak to him ahead of his journey.
Mara TK and Dave Wright of Electric Wire Hustle take us on a guided tour of the art (and sound) trail at Splore last weekend. Listen here
Nick Bollinger reviews new music from Texan Anglophiles Midlake.
4-5 pm
Splore 2010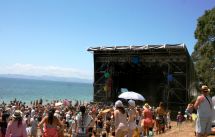 Imagine watching a great band while waves lap at your knees; wandering through the forest surrounded by continuously-changing works of art; eating mussels, sweetcorn and curry by the bucket-load then diving headfirst into a crystal lagoon and you'll have some idea of what Melody Thomas experienced at Splore 2010. The biennial festival of music, arts and culture in mid February saw 7, 000 festival-goers checking out half a dozen stages and zones packed to the brim with fantastic international and national acts, all at the beautiful Tapapakanga Regional Park, 70km south east of Auckland.
Musical acts include Basement Jaxx and local favourites Tahuna Breaks, Sola Rosa, Olmecha Supreme, North Shore Pony Club and Minuit. In the programme Melody talks to Jamie Lidell, Spektrum, Mystro, The Gaslamp Killer, Dub FX and the Flower Fairy. Listen here
And B.B. and Alex - two banjoists play live. Yes, they'll be in tune. And no, there won't be any banjo jokes. Or will there? Listen here