Music 101 for Saturday 13 February 2010
Saturday February 13
2-3pm
Psychedelectronica band The Ruby Suns are back with a new album - Nick Bollinger gives us his verdict.
Jesse Hughes on his best friend, Josh Homme, their band Eagles of Death Metal, and how ditching speech writing for Sonny Bono to take up a life of rock and roll is paying off.
And Electric Wire Hustle drummer Myele Manzanza talks to us ahead of his participation in the Redbull Music Academy in London. Listen online here
3-4pm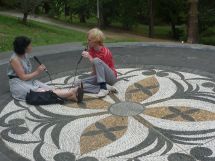 Connan Mockasin talks about his debut LP - Please Turn Me In To The Snat - and other mythical creatures.... listen online here
Nick Bollinger reviews the debut from Auckland based Japanese punk flautist Miho Wada.
And calypso-blues man Tom Rodwell and friends drop by to play us some tunes. Listen online here
4.10 pm Laneway Festival Pt 2
Laneway is a new addition to the New Zealand music festival calendar, though it's been held in Australia for the past five years. Auckland's inaugural event was a central city happening - based around Britomart Square. Music 101's Kirsten Johnstone and Emma Smith talk to artists including The Dirty Three, The 3Ds, Echo And The Bunnymen, and The Black Lips.
Trevor Reekie is in Dunedin this weekend, rocking again with the bands that spelled brain cell damage, parental anxiety and wild, loud pleasure in the 60's and 70's. He phones in to tell us all about Legends at the Captain Cook Tavern.