Music 101 for Saturday 6 February 2010
Saturday 6 February 2010
2-3 pm
We pay tribute to OMC trail blazer Pauly Fuemana, who died this week. Listen online here
New documentary film Still Bill is an intimate portrait of soul legend Bill Withers, best known for his classics Ain't No Sunshine and Lean On Me. For Access All Areas Trevor Reekie speaks to the directors about accidental icon Bill Withers.
She's got a vice-like hold on the English album charts. She's just headlined the Laneway Festival in Australia and New Zealand. But more importantly - what is she wearing? Nick Atkinson talks to Florence Welch of Florence And The Machine.
3-4 pm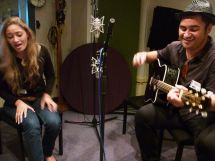 Nick Bollinger reviews a sadder, deeper second album from British singer Corrine Bailey Rae.
Whakatane Songbird Maisey Rika is joined by tour-mate Tama Waipara (both pictured in the studio) to sing us some waiata. Listen online here
And we check in to see how Waitangi Day's annual One Love festival is shaping up.
4-5 pm
Laneway Festival Pt 1 of 2
Monday's Laneway line-up had music geeks excited. A new addition to New Zealand's music festival calendar, the event attracted a five thousand strong crowd to Auckland's Britomart Square
In today's programme Music 101's Kirsten Johnstone and Emma Smith talk to Street Chant, Sarah Blasko, dark young pop minimalists The XX, Chris Knox and The Nothing, and Daniel Johnston.
And we talk to Paul Dodge from Minuit at the Rippon Festival in Wanaka.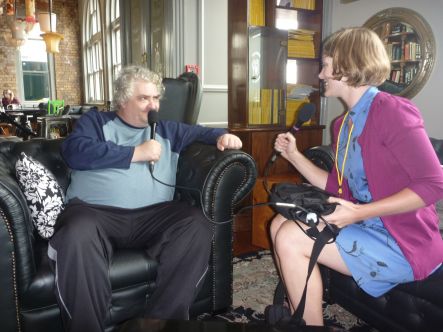 Emma Smith speaking to Daniel Johnston

Kirsten Johnstone with Warren Ellis from the Dirty Three