Music 101 for Sunday 27 December 2009
Saturday December 26 - Summer Edition with Emma Smith
Five hours of musical tastiness, including interviews and features, live performances, festival and tour reports, and fresh, summer sounds.
12:12 pm Noughties Soundtrack
It is not only the end of the year, but the end of the decade... Over the next five weeks we'll recall some of the local songs and music stories that created the soundtrack of the noughties. Today we focus on the years 2000 and 2001.
12.30 pm From The Crate To The Cradle (Part 1 of 2)
One DJ's safari through the funky sounds of 70s Africa.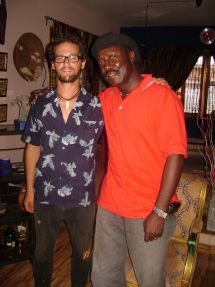 DJ and musician Barnie Duncan spent three months wandering around Africa in order get to know his record crates a bit better - a collection of the various musical styles from the late 60s and 70s post-revolution Africa.
The resulting rare interviews cover the likes of a sound engineer from the booming heyday of Ghana's afro-soul explosion, the man who started Ethiopia's first record label, Highlife band-leaders from Ghana, various superstars of the world music scene at a festival in Morocco, a psychedelic Islamic blues band in Mali, and even Fela's old percussionist. Hear what happens when a DJ uses the contents of his crates to guide him back to the cradle.
Hear it here
1.06pm 2009 Music Review
Music reviewers Simon Sweetman and Grant Smithies join Emma Smith to discuss their musical highs (and lows) from the past year.
2:06 pm Session: Orchestra Of Spheres
Including biscuit tin banjo, gamelan and theremin, Orchestra Of Spheres attempt astral travel through music.
Hear it here
2.30pm Real Wild Child
A celebration of the boozers, brawlers and hell-raisers of rock 'n' roll - with award-winning presenter Stuart Maconie. Today: Keith Moon: 'Patent British Exploding Drummer' (Part 1 of 5)
3.04 pm Live: Lawrence Arabia and Friends
2009 Silver Scroll winner James Milne (a.k.a. Lawrence Arabia) is joined by friends including Liam Finn, Eliza-Jane and Connan Mockasin, live at The Powerstation, Auckland on the 'Having A Baby' tour. Songs include 'The Beautiful Young Crew',' Look like A Fool' and the Scroll winner 'Apple Pie Bed'.
Hear it here
4.05 pm Mix Tape: Dave Dobbyn
Celebrity musical guests are invited in to spin their choicest cuts. Today NZ music icon Dave Dobbyn selects the sounds that sum up his 30 years in music, and tells us why.
Dave Dobbyn's Mixtape
Double Barrel - Dave & Arnell Collins
Just One Look - Doris Troy
In the Dream Life U Need a Rubber Soul - The Clean
Reach Out I'll Be There - The Four Tops
Cello Song - Nick Drake
Dry Bones - The Delta Rhythm Boys
Said I Wasn't Gonna Tell Nobody - The Abyssinian Baptist Gospel Choir
Lay Lady Lay - Bob Dylan
The Mercy Seat - Johnny Cash
Everything That Happens Will Happen Today - David Byrne and Brian Eno
Hear Jim Mora's interview with Flying Nun owner Roger Shepherd here