Music 101 for Saturday 2 January 2010
Saturday 2 January 2010 - Music 101 Summer Edition with Emma Smith
12:30 pm From The Crate To The Cradle (Part 2 of 2)
One DJ's safari through the funky sounds of 70s Africa.
Earlier this year Auckland based DJ and musician Barnie Duncan spent three months wandering around Africa, in order get to know his record crates a bit better - a collection of the various musical styles from the late 60s and 70s post-revolution Africa.The resulting rare interviews cover the likes of a sound engineer from the booming heyday of Ghana's afro-soul explosion, the man who started Ethiopia's first record label, Highlife band-leaders from Ghana, various superstars of the world music scene at a festival in Morocco, a psychedelic Islamic blues band in Mali, up and coming hip hop talent from the streets of Accra in Ghana, and even Fela's old percussionist.Hear what happens when a DJ uses the contents of his crates to guide him back to the cradle.
1:08 pm Access All Areas: Music Industry Decade in Review
Trevor Reekie and guests chart a decade of music business developments and trends - the highs, the lows and the bit stream in-between.
1.30pm Kevin Blechdom
One woman whirlwind Kristen Erickson AKA Kevin Blechdom shares her troubled relationship with all things pop.
2.30pm Real Wild Child
A celebration of the boozers, brawlers and hell-raisers of rock 'n' roll - with award-winning presenter Stuart Maconie. From Hank Williams and Jerry Lee Lewis to Keith Moon and Ozzy Osbourne. This week - The Toxic Twins: Mick 'n' Keef (Part 2 of 6, BBC)
3.04 pm Live: The Chills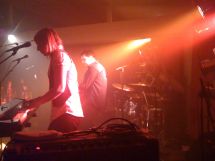 One of New Zealand's defining music acts The Chills celebrated the 25th anniversary of the song Pink Frost in June 2009. Radio New Zealand recorded this performance at the Monte Cristo Room in Auckland. A mix of classic and obscure back catalogue and brand new songs, played by a strong Chills line-up centered around Martin Phillipps (naturally), for an adoring crowd. Songs include Night Of Chill Blue, Effloresce & Deliquesce, I Think I'd Thought I'd Nothing Else To Think About and of course Pink Frost. Pretend you were there.
4.05 pm Mix Tape: Dolf de Datsun
Celebrity musical guests are invited in to spin their choicest cuts. This week: Dolf de Datsun of The Datsuns.
The Damned- Neat Neat Neat
Black Mountain- No Satisfaction
The Shivvers- Teen Line
The Randoms- Between Us
Nothing At All- Confused
Leonard Cohen- Suzanne
Ra 88- The Feeling Of Our Lives
Radio Birdman- What Gives