Music 101 for Saturday 19 December 2009
2-3 pm
Nick Bollinger shares some of his favourite releases of 2009.
Bachelorette (pictured below) bakes biscuits and talks about her big American tour earlier in the year. (hear it here)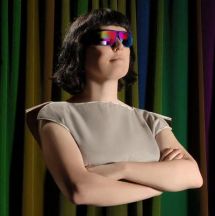 3-4 pm
Expat Garth Cartwright talks about books, bars and blues, juke-joints, grits and greyhound buses as he follows America's musical highways in Access All Areas. (hear it here)
Auckland-based DJ and musician Barnie Duncan spent three months wandering around Africa, in order get to know his record crates a bit better - a collection of the various musical styles from the late 1960s and '70s post-revolution Africa. We catch him before he leaves, and get a preview of From The Crate to the Cradle.
4-5pm
London Calling - The Joe Strummer Story
Joe Strummer is best remembered as the front man of The Clash who were one of the leading lights of the London Punk scene in the mid '70s.
In this episode we hear about his career post-Clash, going solo, singing with the Pogues, fronting the Mescaleros, and his untimely death in 2002.
(Part 2 of 2)
Julian Marley (Bob's son) talks about peace, spiritual prosperity and his latest album Awake.
And we'll give the gift of Them Crooked Vultures gig tickets to some lucky listeners.
Bachelorette's Christmas Cookie recipe
Ingredients:
125g ground almonds
Pinch of salt
125g softened unsalted butter
125g castor sugar
1 tsp real vanilla essence
100g plain flour (Annabel uses gluten-free flour)
2 tbsp cocoa powder
Chocolate Cream Filling
100g good quality cooking chocolate
75ml cream
Directions:
Combine softened butter, sugar and vanilla essence and whip til a pale, fluffy consistency is reached.
Sift and then fold in the flour, salt, cocoa and ground almonds.
Roll the mixture into balls and press flat with the back of a fork onto an oven tray covered in baking paper.
Bake for 15 minutes in an oven pre-heated to 180 degrees.
Cream filling
Melt chocolate and cream together then whip until a thick pouring consistency is reached. The cream filling is then generously applied to the underside of a single biscuit before another biscuit is placed on top.