Music 101 for Saturday 14 November 2009
Saturday 14th November
2-3 pm
Junior Marvin of the Original Wailers talks about life after Bob
Giles Peterson describes his latest production - a five day jam session with the biggest collection of contemporary Cuban musicians since Buena Vista Social Club.
3-4 pm
Music Machines: Auckland producer Jason Fishwick realises his fantasy - being in a room full to the ceiling with classic synths and drum machines, all being played all at the same time by a crowd of musicians making one hell of a funky racket. Access All Areas previews a full on cacophony of electro-bleep heaven, with workshops, guests and live performances for the Vintage Synth Festival next Saturday.
Nick Bollinger reviews the solo debut of Strokes' singer Julian Casablancas; and we hear from the man himself.
And a word from champion of the common people, former Pulp singer, Jarvis Cocker.
4-5 pm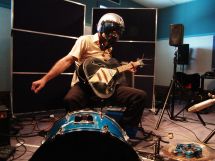 We look at the role of the record label's Artist & Repertoire person - traditionally the talent spotters, poised to uncover the 'next big thing'.....We speak to A&R people from major & indie labels to find out how the job has changed in the wake of a flagging music industry, alongside a top NZ music blogger and a musician for their take on the strengths and weaknesses of 21st Century A&R.
Helmeted hellraiser Bob Log III (pictured above) takes over our studio for a live performance.