Music 101 for Saturday 4 July 2009
July 4, 2009
It's a cinematic first hour - the NZ International Film Festival is hitting town this week, with some great music documentaries. Check out the programme here
Access All Areas: Hippies on Harleys - Trevor Reekie celebrates The film Easy Rider, which opened on 14 July 1969 and roared across American movie screens, giving birth to the rock music movie soundtrack along the way.
Meet Vincent Moon, the French music video maker known for 'take-away shows' at la blogotheque and his work with Arcade fire, The National, Beirut, and emerging indie musicians. He's been in NZ sampling some of our local talent. Check Vincent's blog here
Neil Young has just released 'Archives Vol. 1' Nick Bollinger considers its place in Young's ever-expanding catalogue.
Richard Gilewitz is a virtuoso fingerstyle guitar player from Florida who's been in NZ this week - Emma Smith gets some tips.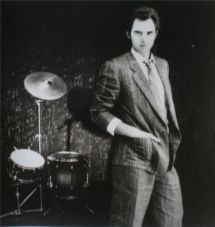 4:10 pm Musical Chairs: Richard James Burgess - A Different Drummer (Part 1)
Former Quincy Conserve drummer Richard James Burgess (pictured) has the dubious honour of helping to create the electronic drum sound and coining the term 'new romantic' to describe the post new wave music style that came out of the English club scene at the dawn of the 80s.
American indie rockers Wilco have just released their seventh album, some of which was recorded at their mate Neil Finn's studio. Nick Bollinger takes a listen.