Music 101 for Saturday 27 June 2009
27 June 2009
Entrepreneur Simon Grigg and DJ Greg Churchill take us back to The Box, a club which established the sound and the fashion for Auckland club life in the 80's.
Nick Bollinger reviews albums by a couple of musicians with a hefty namesake - Elvis Perkins and Elvis Costello
Norwegian-English gaze-pop band Je Suis Animal pop by to play a couple of songs acoustically
South Island gothic-country band The Renderers discuss their new album Monsters and Miasmas, and the joys and perils of living in China.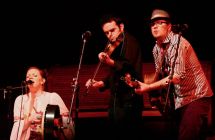 And after 4pm a report back on Ceol Aneas Irish Music Festival 2009.
Now in its tenth year, Ceol Aneas is an Irish music festival in Nelson which brings together musicians from all over to share traditional Irish tunes and songs, hear concerts by internationally renowned folk music specialists, and session til the sun comes up.
Special guests this year come from Ireland and Australia, and include Grada (pictured, photo by Fran McGowan), a Dublin based band which includes a couple of kiwis - Gerry Paul on guitar, and Andy Laking on double bass. The band has its own modern slant on Irish music.
Kirsten Johnstone visits Ceol Aneas to learn some jigs and reels.