Music 101 for Saturday 20 June 2009
20 June 2009
The Broken Heartbreakers, standing by in our studio
Nick Bollinger speaks to Athen's Georgia native Vic Chestnutt, and finds out how R.E.M.'s Michael Stipe saved his life
Midnight Youth talk about being unashamedly pop and their international ambitions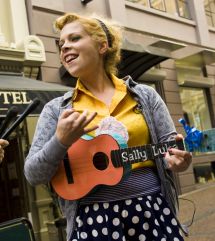 We chase rainbows and unicorns around Auckland with San Franciscan Ukulele player Uni (pictured, photo by Krister Bladh);
Classically trained experimental pop savant Micachu takes us inside her disarming debut 'Jewellery'.
The Broken Heartbreakers stop by to play some new songs ahead of their convoy with fellow slow-song writers Bond St. Bridge, Rosy Tin Teacaddy, and the Eastern
And at 4.10pm - Production Music
Chances are you listen to Production Music every day. It lurks in the background (and indeed the foreground), of most advertisements, TV shows and movies.
Production Music exists as massive libraries of 'musical cues', a resource for the folks making media to call on, as and when they need.
But where does it come from? Tony Stamp & Jose Barbosa investigate NZ's fledgling Production Music industry, and find out how it can be a handy source of additional income for musicians.
And Nick listens to Iron and Wine's collection of out-takes and b-sides - Around The Well.