Music 101 for Saturday 11 April 2009
Saturday 11 April 2009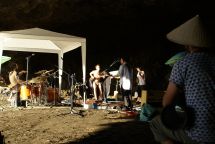 We visit the cave where local mystic/post-rock band An Emerald City recorded their debut long player Circa Scaria
Alt-country queen Lucinda Williams talks about her recent spate of songs, ahead of her NZ dates this week
We hear a brand new demo from Dunedin punks Die! Die! Die! and have a catch up with these globetrotters
Former rock n roll ruffian turned funk rock guitarist for 'The Volunteers' Elan Mills talks about about moving to new grooves
New York band The Yeah Yeah Yeahs have released a new album entitled 'It's Blitz' - Reviewer Troy Ferguson takes a listen.
At ten past four: The Secret Life Of Music Magazine Editors
Music magazines like Rip It Up, and NME used to be the monthly bible for finding out about new music.
In recent years new media has left the music magazine industry scrambling for ways to stay relevant.
Kirsten Johnstone speaks to editors past and present:
founder of Rip It Up magazine Murray Cammick talks about bringing music information to a generation of New Zealand music fans; Ashley Bird, ex editor of UK Metal Magazine Kerrang! tells of realising his teen dream; and Real Groove editor Duncan Grieve speaks about keeping current, and surviving in the face of declining sales.
And Troy listens to the solo record by one half of Swedish electro-noir group The Knife- Fever Ray.