Mass lay-offs in the mining sector could result in the West Coast losing a generation. As Insight disovered, its young people are being forced to look further afield for work.
Recent dramatic falls in the price of coal and a move towards using greener forms of energy, are putting the region's mining under threat.
In early June Solid Energy announced that 187 jobs would go from its Stockton mine near Westport.
Its new chief executive, Dan Clifford, has been brought in to rescue the company which is saddled with $400 million worth of debt.
He says a plummeting coal price means the mine is losing $130,000 a day and he had no option but to lay off a third of its workers.
Mr Clifford says there may be further cuts if the coal price does not pick up soon.
Plans by the Australian-owned company, Bathurst Resources, to dig what would be the country's second largest open cast coal mine next to Stockton, had been seen as a potential savior for Westport.
On top of the Stockton lay-offs, the town was already reeling from the loss of 120 jobs at the Holcim cement works, that are due to close in 2016.
But its chief executive, Hamish Bohannan, says low coal prices makes a full scale operation unviable and it could now be up to three years before the mine hits full production.   
James Rusbach who runs a rental car business that gets a large amount of work from the mining sector has lived in Westport for 46 years and has never seen a downturn this significant.
"We've had to downsize like everybody else."
He had 15 staff and now he has only got seven.
"Some of them have been here for years. It's hard to say (to them) you haven't got a job."
James Rusbach, thinks Solid Energy over-extended itself when the price was good and was not prepared when prices dropped.
Tom Gray runs a printing business in Westport that supplies stationery to Solid Energy and has experienced a 75% drop in work in the past year.
"Fortunately we don't carry any debt and we own the building so rent's not a problem. So we're ok, unlike so many who are not going to make it through this."
Kathleen Reynolds' engineering business has already had to scale back its workforce from 20 to 12 and says the latest series of lay-offs could have a long term impact on the region.
"Our youth leaving school are not going to find work in this area, they're going to have to go away from Westport and we're going to go back to what we were before, an older town."
The Victoria University economist, Geoff Bertram, says the West Coast economy is still overly reliant on mining.
Dr Bertram has written extensively on the energy sector and its impact on climate change.
He says the sector is unlikely to experience a resurgence as the countries New Zealand exports to, including China, start to phase out the use of coal in power generation in order to get on top of climate change.
He says years of delay in taking action on global warming means the opportunity for a smooth transition away from coal has been lost.
"Once climate change begins to bed in seriously I think what we're going to see is radical and probably not very well judged policies coming forward that are going to be much more disruptive than otherwise would have been the case."

Mining has a long and significant history on the West Coast. Photograph courtesy of The Denniston Experience.
Dr Bertram says the move away from coal in generating electricity could flow through to lower prices for the hard coking coal used to make steel, the type of coal the West Coast is famous for.
He says more than 100 years of mining on the West Coast has been of minimal benefit to the region and most of the money it has generated has flowed to other parts of the country or offshore.
One industry on the West Coast that is growing is tourism. Visitor numbers were up 6% in the year to March and a string of new attractions have opened including a cycle trail.
The region recorded 1.2 million guest nights in the past year from local and overseas tourists, who spent $300 million and helped employ 2300 people.
The chief executive of Tourism West Coast, Jim Little, says after some lean times following the Christchurch earthquakes and the global financial crisis, visitors are returning in large numbers.
"In terms of international holiday guest nights, the West Coast ranks five out of 30 regions."
The West Coast cycle trail opened this year and is one of a number around the country championed by the government as a way of revitalising the tourist trade for the small towns they pass through.
It stretches 140 kilometres and traverses historical gold fields, wild coastline and tall stands of Rimu on its way from Greymouth to the town of Ross.
Paul Shram who hires cycles for the trail, says the money tourism brings in to the region goes around six times and feeds through to a wide range of groups.
Kerry Fitzgibbon runs one of 12 new places to stay that have been set up to service the cycle trail.
With her partner she restored the once derelict 140-year-old Royal Hotel and now employs 16 staff.
"Often on the West Coast there's so much negativity because we're going through these huge sadnesses of mining closing down. But I think sometimes we need to focus on the things we do have that we're not using to their full potential."
Kerry Fitzgibbon, says when it comes to the number of tourists the cycle trail brings in, the next year will be crucial to businesses such as hers that need to see a return on the investment they have made.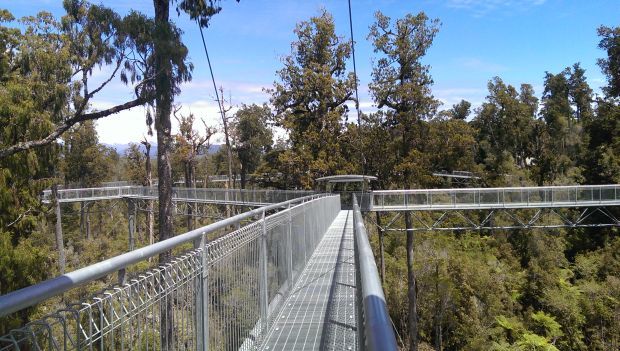 The recently opened Tree Top Walkway near Hokitika. Photo: Conan Young. RNZ.