Insight for Sunday 24 June 2012
8:12 AM.Sally Round goes to Fiji to check progress towards a new constitution and elections in 2014 Audio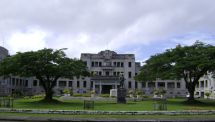 The process of writing a new constitution is underway in Fiji. It will be the country's fourth since independence in 1970.
The regime of Commodore Frank Bainimarama abolished the 1997 constitution three years ago.
While some have decried the process as a sham and illegal, others hope that what's underway now will mean a return to democracy in elections which the interim government has promised for 2014.
Sally Round has travelled to Fiji and spoken to those spearheading the plans for a new constitution as well as regime critics, politicians and ordinary citizens.
Photo: Government Buildings in Suva.