Insight for Sunday 17 June 2012
8:12 AM.Conan Young considers when the rebuild of Christchurch will get underway and what the city may look like. Audio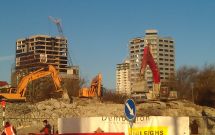 It is 16 months since the devastating earthquake that destroyed so many homes in Christchurch. 
Despite much talk of a rebuild, many are still struggling with insurance claims and technical reports.
Christchurch reporter, Conan Young, has been investigating when the much talked of rebuild will get underway in the suburbs and considers what the central business district might look like.