Insight for Sunday 1 July 2012
8:12 AM.Stephen Hewson looks into the funding of NZ's Olympic Team Audio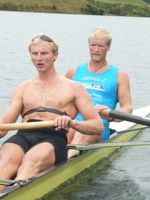 More money than ever before has been poured into preparing New Zealand athletes for next month's London Olympics, but will that investment provide this country with its biggest ever medal haul?  
Radio New Zealand's sports reporter, Stephen Hewson, explores whether the use of targeted funding will pay off.
Left: Hamish Bond and Eric Murray.