Insight for Sunday 31 October 2010
8:12 AM.John Gerritsen explores how much the choice of school affects a child's academic achievement. Audio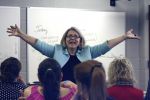 International studies repeatedly show New Zealand has one of the best school systems in the world.
But every week-day, thousands of families bypass their local school in favour of another where they think their children will get a better education.
What difference does the choice of school really makes for children?
What have researchers discovered about differences between schools? And what does this mean for parents who want the best for their children?
Radio New Zealand's Education Correspondent, John Gerritsen, investigates.