Insight for Sunday 4 July 2010
8:12 AM.Sue Ingram looks at the projected increase in the number of people with dementia - of which Alzheimers is the most common type. Audio
The number of people who have dementia is predicted to rise to epidemic proportions by the middle of this century.
By 2050 147,000 people in New Zealand are expected to have the disease - of which Alzheimers is the most common type.
The progressive and incurable disease affects memory, thinking and behaviour.
It places huge demands on families and health services.
Are there ways to stave off the disease and mitigate this growing challenge?
Does New Zealand need to follow countries like the UK and Australia and make dementia a national health priority?
Sue Ingram investigates.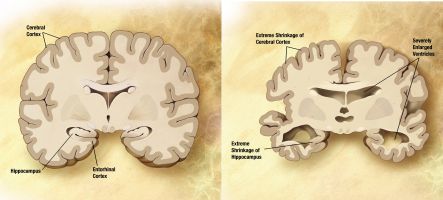 Picture: On the left, a normal brain. On the right, a brain affected by Alzheimer's disease.
For more information on dementia visit Alzheimers New Zealand website.
The first programme in this 2-part series, which heard from people with dementia and their carers, aired on June 27th.