Insight for Sunday 12 April 2009
8:12 AM.Julian Robins examines the future of the ACC - is its financial situation as perilous as the Government recently made out? Audio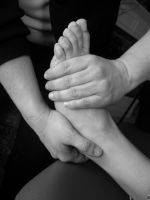 Insolvent and in crisis? Or under attack and being prepared for privatisation?
The Accident Compensation Corporation has been funding injury prevention schemes, accident treatment and rehabilitation for 35 years.
But with the Government promising major changes to the no-fault scheme by the end of the year, just what is the future of the ACC?
Political reporter, Julian Robins investigates.
Picture: Free physiotherapy funded by ACC is already under review