Insight for Sunday 19 April 2009
Credit rating agencies evaluate risk, providing a central pillar of the financial system.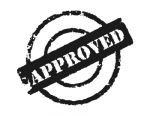 They rank investment products that they consider the most secure and reliable as Triple-A.
But, in the past year the value of many Triple-A rated bonds has turned to dust.
Have the agencies provided a false sense of security? In tough times have they been found wanting?
The BBC's Mark Gregory investigates.
The audio of this programme is available on the BBC Assignment page.
Picture: A seal of approval. How much weight should investors give to risk assessments made by credit ratings agencies?