Arts on Sunday for Sunday 17 November 2013
12:43 Goldie Auction
One of the earliest works by an old New Zealand master is up for sale. The portrait Kawhena, painted in 1892 by a then 22-year-old Charles Frederick Goldie, should fetch between $500,000 and a million dollars at auction. But what exactly is it you are buying for the price? Justin Gregory met Richard Thompson, who is handling the sale, at the International Arts Centre in Auckland to find out.
Kawhena 1892, by C F Goldie. Photo courtesy of the International Arts Centre.
12:52 The Moas
Moas organiser Hugh Sundae and 2012 recipient for The Orator producer Catherine Fitzgerald on 'The Moas': an unofficial celebration of achievement in New Zealand film in the past year.
1:10 At The Movies with Simon Morris
The Counselor, The Butler and Thanks for Sharing.
1:34 3D at Te Papa
3D Production Initiative: how 3D technology has moved from the big screen to our museums. Weta Workshop's three-time Oscar winning visual effects director Alex Funke, and Victoria University's award-winning documentary filmmaker Dr Paul Wolffram on 360 degree views of a hundred Te Papa artifacts.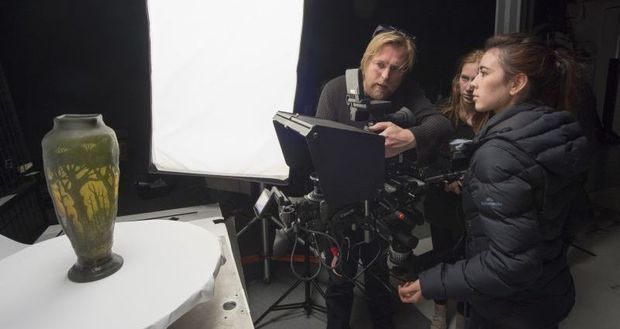 Alex Funke photographing one of Te Papa's artifacts.
1:45 New Zealand jazz historian Dr Aleisha Ward
Aleisha spans four decades in her thesis on early New Zealand jazz, spinning back to the 1920s. Her research includes interviews with early jazz musicians Frank Gibson Jnr, Bernie Allen and Wayne Senior.
2:05 The Laugh Track
Creators of TV's celebrity satire Auckland Daze Millen Baird and Kiel McNaughton.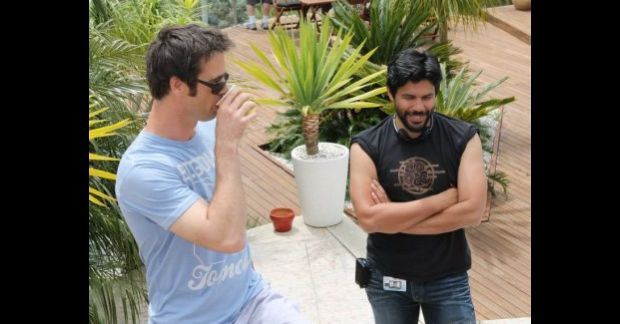 Millen Baird and Kiel McNaughton on the set of Auckland Daze.
2:25 Kathleen Grattan Award for Poetry
Arts On Sunday announces Siobhan Harvey is the winner of this year's Kathleen Grattan Award for Poetry .  Siobhan was one of ninety entries judged by poet, fiction writer and lecturer Jeffrey Paparoa Holman.  Siobhan receives $16,000.  Congratulations!
2:36 Christine Leunens - A Can of Sunshine
The often charged mother-in-law/daughter-in-law relationship is explored by American-born author Christine Leunens in A Can of Sunshine. Now living in the Manawatu, Christine's new novel looks at how the idiosyncratic mother-in-law proves to be both a blessing and an occasional curse for a solo mother.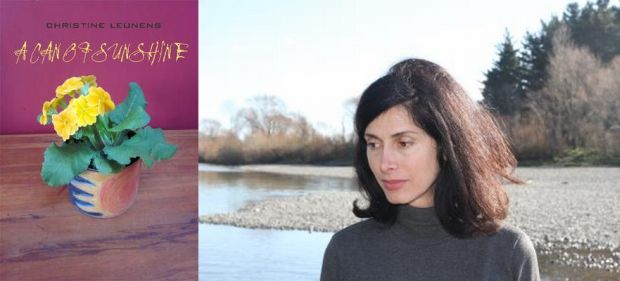 2:44 Rachel O'Neill - One Human in Height
Writer and artist living in Paekakariki Rachel O'Neill combines both skills in her new poetry collection One Human in Height, featuring a parachutist free-falling to her family reunion, and an oboe-playing thief.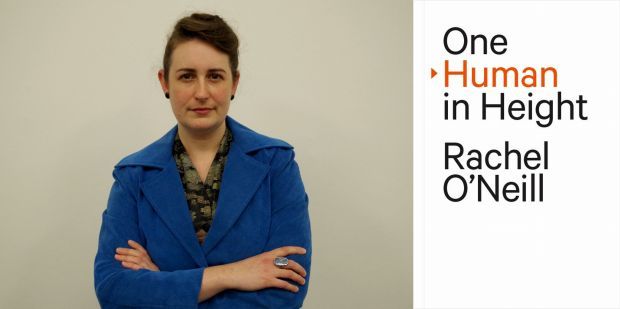 2:50 Auckland Welsh Choir's celebration of Prince George
The Welsh love to sing, it seems, and the Auckland Welsh Choir is no different. In collaboration with the Devonport Chamber Orchestra they're celebrating the birth of Prince George - a future Prince of Wales - with a concert of Handel's Coronation Anthems, plus some lullabies and traditional Welsh songs. There's just one catch, though; hardly any of the choir members are actually Welsh. Justin Gregory talks to their chairman Philip Morgan Rees at rehearsal.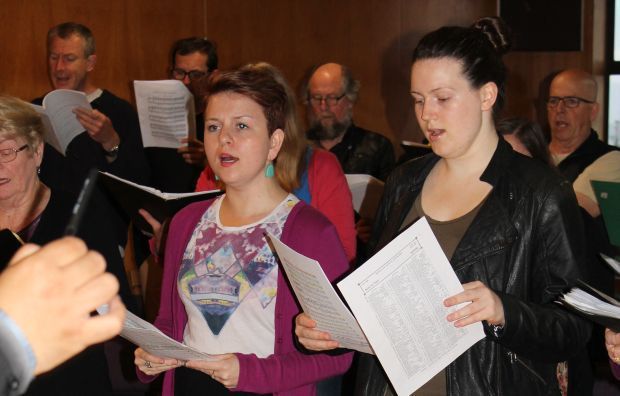 Members of the Auckland Welsh Choir in rehearsal.
3:05 The Drama Hour
Skin Writing Series III - Episode 1: The Powhiri by Jamie McCaskill, set in a tattoo parlour; and An Extraordinary Rendition by Steve Danby, centered on the Mount Tarawera eruption and how it may have buried more than the Pink and White Terraces and the local villagers.