Arts on Sunday for Sunday 10 November 2013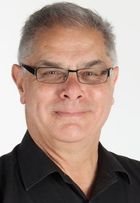 12:45 Petrus Van der Velden
A wreath will be laid tomorrow on the grave of one of New Zealand's early landscape painters, Petrus Van der Velden, making a hundred years since his death. The grave in Waikaraka Cemetery in Auckland was unmarked until the 1970s when his biographer Rodney Wilson arranged for a headstone. Van der Velden was born in Rotterdam on 5 May 1837 and arrived at Lyttelton, New Zealand on 21 June 1890. His best known works are his paintings of the Otira Gorge. Several of Van der Velden's paintings are on display at Te Papa, ahead of an upcoming symposium about his life and work. Te Papa's Head of Arts & Visual Culture, Professor Jonathan Mane-Wheoki (right) talks about the artist's life and legacy.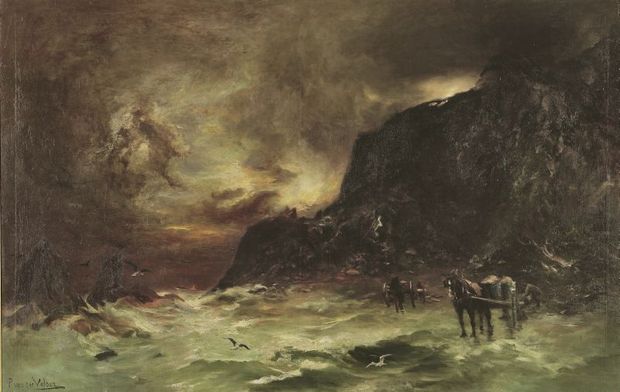 Storm at Wellington Heads by Petrus van der Velden. Circa 1908. Courtesy of Te Papa (1936-0012-115).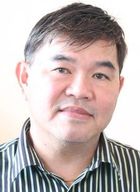 12:52 Filmmaker Alex Lee
Alex Lee (right) has just been announced as the new head of Performing and Screen Arts at Unitec in Auckland. Alex, who is also the founding director of the Documentary New Zealand Trust, takes on the job at yet another tricky time for our film and TV industry. Justin Gregory asked him what he has to say to students who want to know where all the work is.
1:10 At The Movies with Simon Morris
A preview of this year's Show Me Shorts Film Festival.
1:31 Rob Mundle on Captain James Cook
Sailor, journalist and biographer Rob Mundle on Captain James Cook and his legendary navigational skills. Over three remarkable voyages of discovery into the Pacific in the latter part of the eighteenth century, Cook unraveled the centuries-old mystery surrounding the existence of the great southern land, Terra Australis Incognita; became the first explorer to circumnavigate New Zealand and prove it comprised two main islands; discovered the Hawaiian Islands; and much more. Rob Mundle is the author of eleven books including the acclaimed Bligh and Flinders.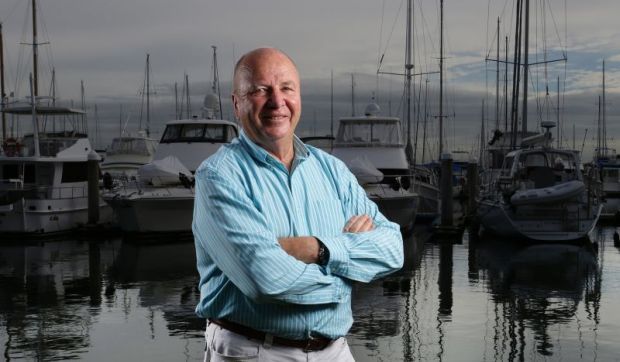 Rob Mundle.
1:47 The changing role of the recording engineer
Recording engineers are some of the most important people in the music business, though outside the industry their work is mostly unsung. In fact most of us have no idea exactly what they do. Neil Baldock talks about the changing role of the recording engineer.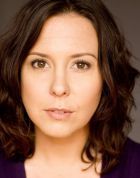 2:05 The Laugh Track
Actress Jodie Rimmer (right).
2:26 Australian curator Juliana Engberg
Superstar curator Juliana Engberg is a very busy woman. Artistic director of the 2014 Sydney Biennale and ACCA, the Australian Centre for Contemporary Art, she's briefly in Auckland to open an exhibition of work by fellow Aussie, photographer Pat Brassington. Called Á Rebours, its dark humour should strike a chord with Kiwis. Justin Gregory met Juliana at Te Tuhi Gallery in Pakuranga to talk about trans-Tasman exchanges and how the exhibition came to town
2:35 Ceramics artist Richard Stratton
A treacle hallucinogenic urn, a bankers dog with the face of Winston Churchill and a machine gun, and an Hieronymus Bosch memorial invalids cup have secured their creater, Wellington-based ceramics artist Richard Stratton, the 2013 Objective Art Awards and residency in Denmark from this year's Premiere Portage Ceramic Awards.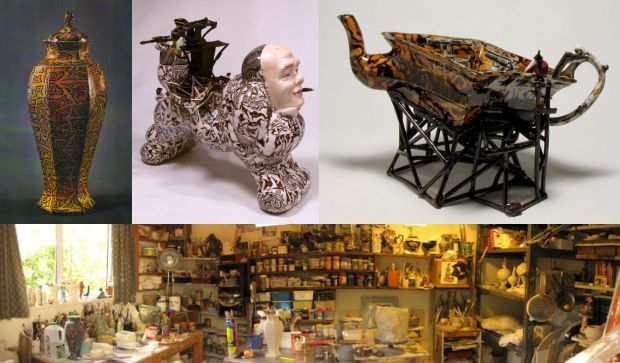 Top from left: Treacle Hallucinogenic Urn, A Banker's Dog Teapot, Hieronymus Bosch Memorial Invalid's Cup.
Bottom: Richard Stratton's studio.
2:45 Landscapes of New Zealand
A comprehensive book on New Zealand Landscape painting that's just been revised by Christopher Johnstone, just seven years after it was first published. So what's changed in that time?
Gallery: Landscapes of New Zealand

Frank Wright, Born Nottingham, England, 1860, Died Auckland, 1923. Karaka Creek, Thames, 1889, Watercolour, 49.2 x 74.6, Signed, The Royal Collection. © 2013 Her Majesty Queen Elizabeth II.
2:53 Romanian theatre designer, director and playwright, Nic Ularu
Nic Ularu's work is not only popular in his homeland but in his adopted home of America. He's won an Off-Broadway award for his work. He explains how theatre in Romania is a job for life, which has its advantages and disadvantages, and reflects on why so many actors sacrifice years pursuing the dream of making it big in New York. Nic is in New Zealand working with Toi Whakaari design students.
3:05 The Drama Hour
A radio musical! At Least We Have Our Jobs written by Francesca Emms.