Arts on Sunday for Sunday 13 October 2013
12:43 Canterbury Tales
Chaucer's Canterbury Tales pilgrims will get a Kiwi makeover when they take part in the second Festival of Transitional Architecture in Christchurch – a collaborative project involving performers, architecture students and local businesses. Hear all about it from Lynn spoke to George Parker from Free Theatre and Tanya Muagututi'a of Pacific Underground.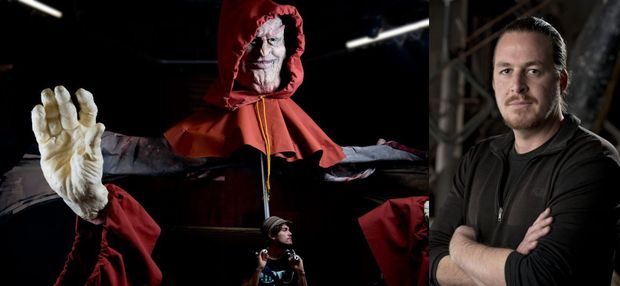 Left: a puppet from Free Theatre's Canterbury Tales. Right: George Parker.
12:48 Auckland artist Tiffany Singh
Tiffany Singh talks about her battle to save her public art work based on a Buddhist temple. After vandalism attacks and theft, it's the Auckland Council that may be its death knell.
1:10 At The Movies with Simon Morris
A year after the Toronto Film Festival, Mr Pip finally makes it to New Zealand.
1:31 Costumier and artist Esther Lofley
Royal New Zealand Ballet costumier and an artist in her own right, Esther Lofley. Find out some of the trade secrets and the biggest challenges when it comes to sewing and maintaining a vast wardrobe of costumes for dancers and helping them in and out of their costumes in record time.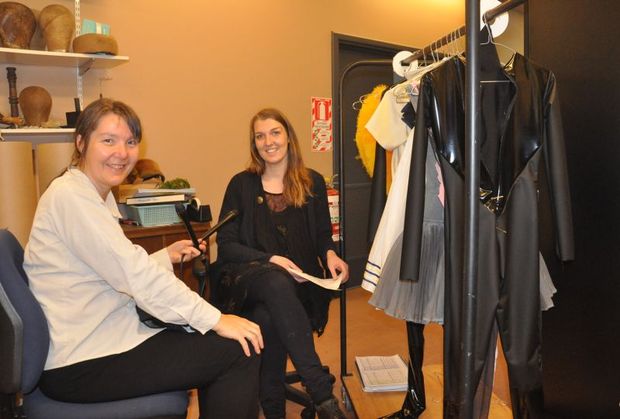 Lynn Freeman interviewing Esther Lofley in the Royal New Zealand Ballet's wardrobe.
1:48 The Feast
Collaboration between art forms are all the go right now. But a new theatre festival in Auckland has teamed-up with a catering company for a unique night out. POP dining, the Basement Theatre and graduates of Red Leap Theatre's Incubator development programme are serving up a three-course feast of food and theatre. Justin Gregory joins the cast – and the chefs – for a taste test. The Feast, a festival of three plays and three meals, opens this week at The Basement Theatre in Auckland.
2:05 The Laugh Track
Playwright Gavin McGibbon (below right). Circa Theatre in Wellington is host the world premiere of his play Con.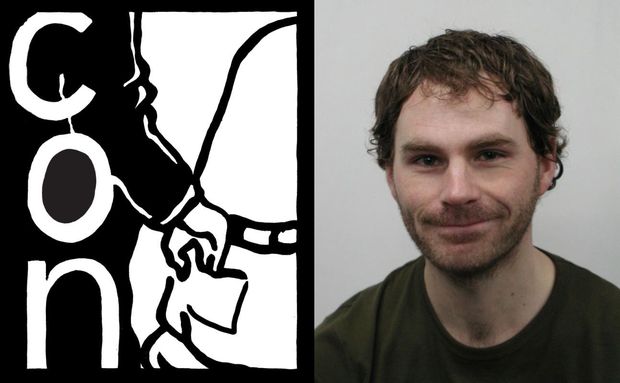 2:26 Anti-War Medals
Mike Holmes from the San Francisco-based jewellery gallery Velvet da Vinci. He's a fan of Kiwi jewellery and also talks about some highly political jewellery coming out of the States, like an exhibition his gallery organised of anti-war medals.
2:35 Chapter & Verse
Pip Adam writes about a female engineer, and human beings' desire to build tall structures in I'm Working on a Building (VUP), while Brandy Wehinger helps us to understand the loneliness of a new breed of part-Zombie/part-humans in Blue: Love Zombies and the End of the World (Random House).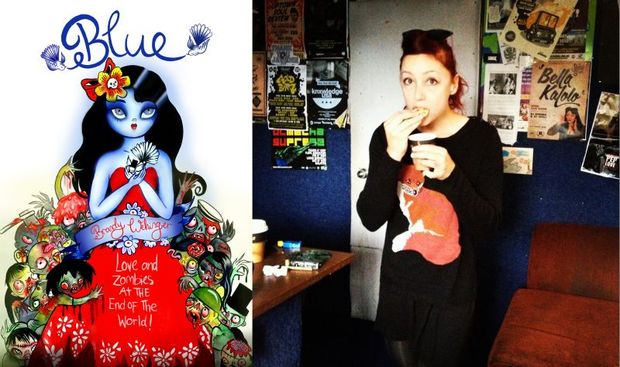 Right: Brandy Wehinger.
2:50 The Art of the Hut
Northland artist Felicity Deverall's ambitious plan to hike to and draw many of the North Island's backcountry huts, for The Art of the Hut project.
3:05 The Drama Hour
The conclusion of Michaelanne Forster's Lanarch Castle of Lies.