Arts on Sunday for Sunday 6 October 2013
12:43 Bill Culbert and Ralph Hotere
Bill Culbert and the late Ralph Hotere enjoyed an artistic partnership that lasted more than two decades and a friendship that lasted even longer. The fruits of both will go on display at the Dunedin Public Art Gallery from next Saturday in the first ever major retrospective of their joint work, Hotere Culbert. Bill has come home to Dunedin for the exhibition and when Justin Gregory caught up with him he asked him how he and Ralph managed to sustain such a long collaboration.
12:48 Unlocked Collections
Hidden treasures in Auckland's art collection are about to go on show. During Art Week Auckland, the Unlocked Collections exhibition allows the public to peek at the private art collections of some of our biggest businesses. Justin meets guide David Hill to take in the impressive display owned by the BNZ on Queen Street.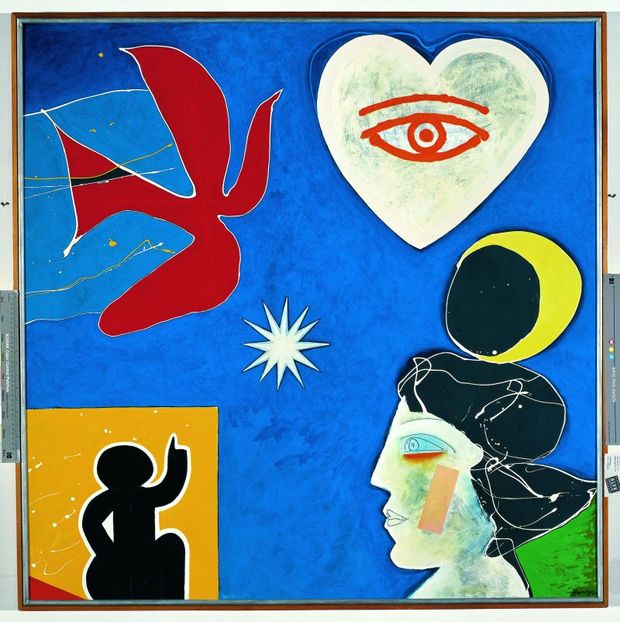 Wonder 82 by Pat Hanly is on display at Unlocked.
1:10 At The Movies with Simon Morris
This week, Simon Morris talks to New Zealand film producer Tim Coddington, who has worked on some of our biggest co-productions over the years, from the Narnia films and Bridge To Terabithia to Mr Pip. Now he's going it alone in a film set in Otago during the gold rush years – The Colour.
1:34 The Corelli School
The staff of the Corelli International Academic School of the Arts believe art is at the heart of learning. Operating out of the old Shortland Street clinic in Auckland's Brown's Bay, they dedicate more than 30% of their curriculum to art – and yet frequently top Cambridge International Exam results. Justin Gregory joined them one Friday for their regular lunchtime concert to find out how they do it.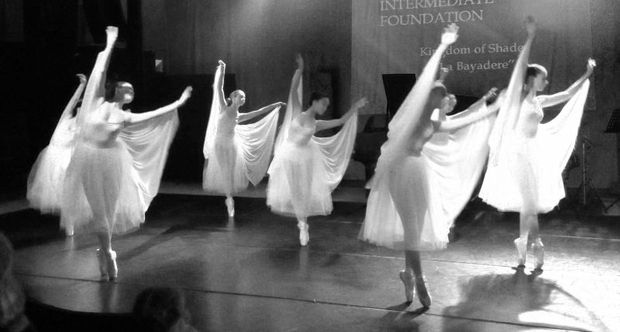 Corelli Classical Dance Corps de Ballet. Photo courtesy of the Corelli International Academic School of the Arts.
1:46 Why be cool when you can be awesome?
The cast of Dragonlore, one of two Young and Hungry plays on now at the Basement Theatre in Auckland, use LARPing, or live action role playing, to tell the story. But as Justin Gregory finds out when he catches up with them in rehearsal, the line gets rather blurred between live action role playing and live theatre.

Dragonlore, one of two plays in the Young & Hungry Theatre Festival on now at the Basement Theatre.
2:05 The Laugh Track
Our guest today on the Laugh Track is musician Sam Prebble of Auckland alt-folk band Bond Street Bridge. Sam and the band have been winning awards for their very successful live show The Explorers Club and they are soon to release an album of the same name.

Bond Street Bridge. Left to right: Nina McSweeney, Sam Prebble, Dylan Storey, Logan Compain, Brendan Turner. Photo by Emily Cater.
2:30 Dance artist Charles Koroneho
He's been a long time away but Charles Koroneho has returned to New Zealand for a performance of his new work, Pure. In the '80s Charles was one of the founders of Te Kanikani o te Rangatahi, this country's first contemporary Maori Dance Company and has worked extensively with first nations artists across Canada, and lectured and danced around the world. Pure came out of a long residency in Ontario, and earlier this week he sat down with Justin Gregory to tell him all about it.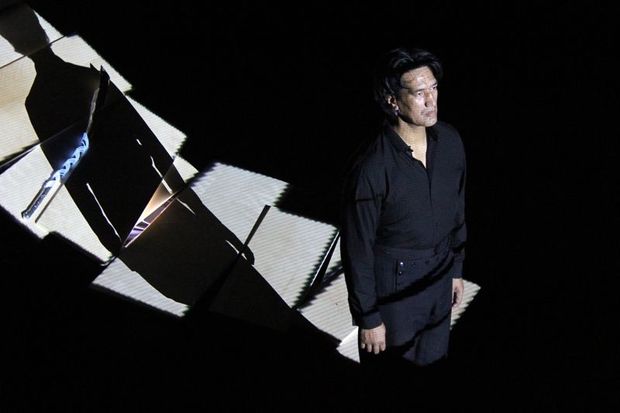 Dance artist Charles Korenoho.
2:35 Life, love and the theremin
Today's featured writer is Aussie-born Wellington-based novelist Tracy Farr. Tracy has imagined the life and loves of a pioneering virtuoso of an early electronic instrument, the theremin, in The Life and Loves of Lena Gaunt. Dame Lena Gaunt is an octogenarian musician. She was feted in her hey-day, but has long been forgotten, until coming out of retirement to appear at a music festival. Lynn Freeman talks to Tracy about the book and her own love affair with the theremin.
2:45 Learning to Cry
The InterACT Disability Arts Festival is looking for a Town Crier. They opened auditions a few weeks back and got no takers. Arts on Sunday presenter Justin Gregory decided to have a go. Now, he's a pretty quietly spoken fella at the best of times, and town criers… are not. So first of all he went to get some help from actor and expert voice teacher Sylvia Rands.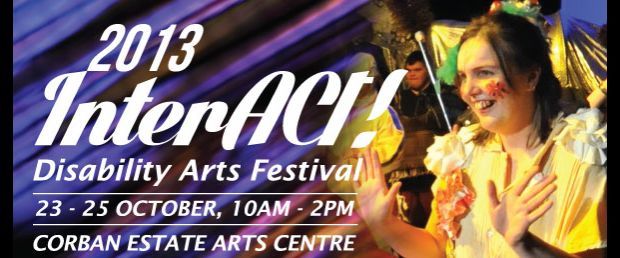 2:53 Live Live Cinema
Gareth van Niekerk is a busy man. He's the sound designer and foley artist for the new Live Live Cinema show, Dementia 13. Live Live Cinema is just what it sounds like – a presentation of a classic film with all the audio, all the dialogue and all the music performed live and of course, all the foley work. They made a big splash with their previous show, Carnival of Souls, and this new show will soon tour to the Barbican Theatre in London. The press release says Gareth has 1,000 cues to perform. Justin Gregory asked him if that could possibly be true.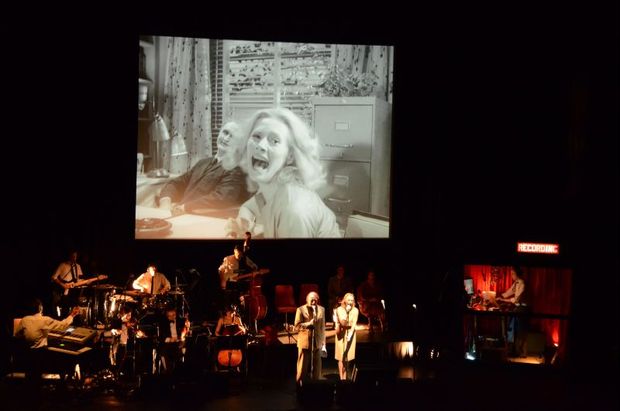 The cast and crew of Live Live Cinema. Gareth van Niekerk is in the small booth on the right.
3:05 The Drama Hour: Larnach Castle of Lies, by Michaelanne Forster and Newly Wed by Sarah Laing
Larnach Castle of Lies introduces William James Mudie Larnach, born on 27 January 1833 at Castle Forbes, Patrick Plains in the Hunter River region of New South Wales. After moving to New Zealand he became a successful banker and a parliamentarian. He built Larnach Castle on the Otago peninsula. Larnach committed suicide in a parliamentary committee room in 1889.
In Newly Wed, Christina is a buttoned-up Catholic girl with a surprising appetite for sex. She picks up a spunky hitch-hiker and hastily marries him – but will it last?