Arts on Sunday for Sunday 22 September 2013
12:43 Neang Neak's Legacy
It's been a long time coming but we're about to see this country's first New Zealand-Cambodian play. Why have we waited so long for one? After a rush of Asian theatre in recent years, we're about to see the first professional New Zealand-Cambodian play to create Neang Neak's Legacy. You'll hear from the Director Jarod Rawiri and one of stars, Nancy Brunning, from Tawata Productions.


Jarod Rawiri and Nancy Brunning.
12:48 'I was using six watts when you Received me...'
Maddie Leach and Jem Noble, collaborators on I was using six watts when you Received me... The broadcast of sounds that are special to the city but were lost after the earthquakes are part of the SCAPE Public Art Biennial which starts in Christchurch this Friday.
I was using six watts when you Received me... on Twitter
1:10 Dan Slevin reviews new movies
1:31 The future of Wellington theatre
We consider the future for Wellington theatre with Downstage closing its doors for the final time last night. You'll hear from Peter Bland, one of the founders of Downstage nearly fifty years ago as well as theatre critic John Smythe author of a book on the first forty years of Downstage. Plus Stephen Wainwright CEO of Creative NZ, Jane Waddell who has been closely involved with Downstage over the years and is on the board of rival Circa Theatre, and Tim Spite, one of the new generation theatre practitioners who are potentially the biggest losers.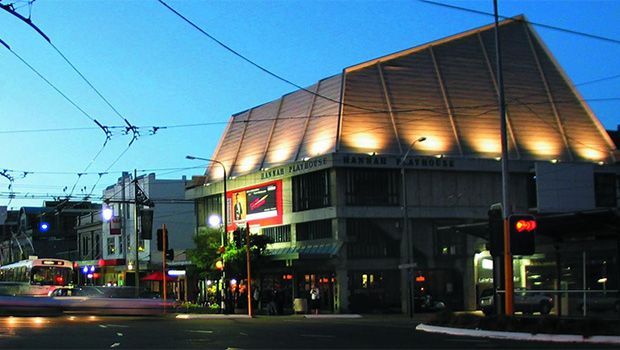 Downstage theatre.
2:05 The Laugh Track
Actor Byron Coll, stage and screen actor and star of the TV ad campaign featuring an over-excited All Black fan.
2:26 Tomorrow will be the same…but not as this is
Earthquakes are one of the few natural disasters Australia seldom experiences. We find out from curator Felicity Milburn how our neighbours have responded to an exhibition of earthquake related art direct from Christchurch. Tomorrow will be the same (but not as this is), on show in Mandurah in Western Australia.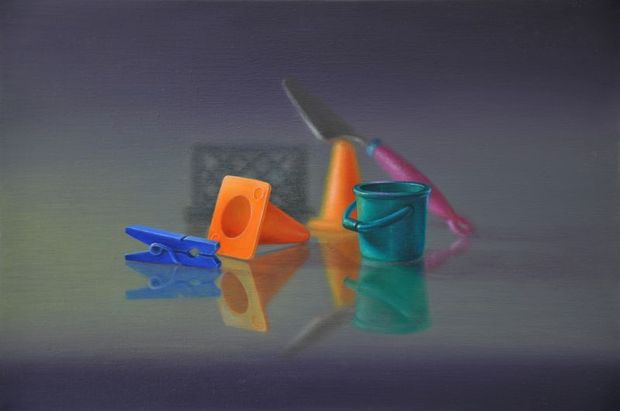 One of the works in Tomorrow will be the same (but not as this is). Emily Hartley-Skudder. Road Works Set Number Two (2012-13). Oil on calico. Burnside High School Art Department.
2:35 Chapter & Verse
Writer Fleur Beale on Speed Freak, her latest novel for teen readers, and Jade Valor on her re-imagining of Salome.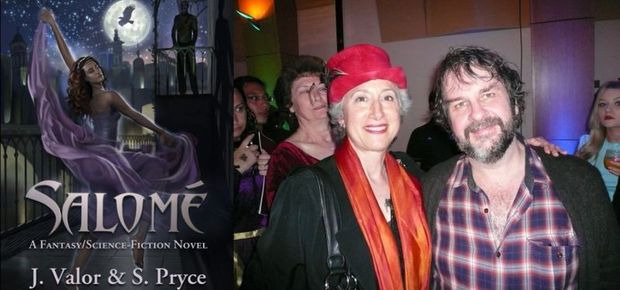 Right: Jade Valor with Peter Jackson.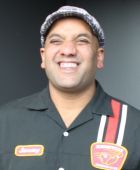 2:48 Actor, director and writer Ahi Karunarahan
The pool of actors in New Zealand is broad but possibly a little bit shallow. And when it comes to casting, especially for roles that require actors from minority communities, sometimes we just have to make do with what we've got. Justin Gregory asks whether what we see on stage, watch on TV – and even what we hear on the radio – always has to be completely authentic. He talks to Sri Lankan-New Zealand actor Ahi Karunarahan (right).
3:05 The Drama Hour: Two Fish and a Scoop by Carl Nixon
Jason starts work in the local fish-and-chip shop and soon falls in love with the owner's daughter, Rhea. But Rhea has a Pakeha mum and an Asian dad and they are determined she won't make the same mistake as they did. Romeo and Juliet in a fish-and-chip shop.