Arts on Sunday for Sunday 24 March 2013
12:40 Boosted
Arts projects from an ANZAC opera to a contemporary Maori Quartet to a video game to a documentary about grass roots rugby are among the first to be picked for a new fundraising site. Boosted is the brainchild of the Arts Foundation which prides itself on picking winners. We'll hear the pitches of some of the selected few invited to launch the site during the week.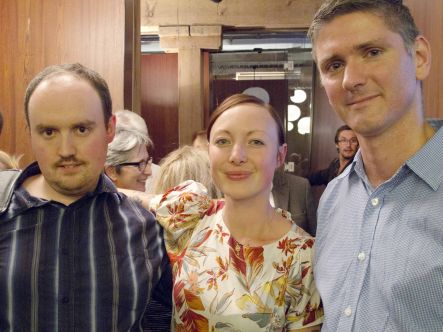 From left: Stephen Knightley Tanja Jade  and Eric Hogan.
1:10 The 500th episode of At The Movies
Simon Morris goes back to episode number one.
1:35 Taranaki's Photographic Memory
New Plymouth's Puke Ariki staff are six years into a decade long project to clean, catalogue and digitise more than 100,000 historical negatives from two substantial photographic studios. Some of the images are about to go on display in an exhibition that's bound to stir emotions. Ruth Harvey, the co-curator, talks about this all-consuming project.
Gallery: images from Photographic Memory: The Swainson/Woods Collection

Taranaki Hospital Board, Catherine & Matilda Hickey, (14 February 1978),Bernard Woods Studio (WD.026308)
1:45 Te Whai Ao
New Zealand On Air and the New Zealand Film Commission are offering documentary makers a slice of a new pie of funding, but will the criteria be too much for some? Bryan Bruce, documentary maker, and Dan Shanan from The Documentary New Zealand Trust share their opinions.
Te Whai Ao - funding for emerging and experimenal documentary makers

2:05 The Laugh Track
Screen actor turned staff actor, Will Hall (right), who's appearing in Mike and Virginia at Wellington's Circa Theatre.
2:26 Art Lift
Temporary art installations are fun to explore when they're on site, but the really hard work is getting the works in… and out. Justin Gregory meets Terry Haines, otherwise known as Art Lift.
2:38 A Mann for all seasons…
We talk to director, actor, playwright and novelist Phillip Mann about his long held love of reading and writing science fiction, with the publication of his latest novel, The Disestablishment of Paradise.
2:50 Other Animals
First time published poet Therese Lloyd talks about her collection, Other Animals, which is published by VUP.
3:05 The Drama Hour
InSalt, from the SEEyD Theatre Company - it's a radio adaptation of their hugely successful stage InSalt, set in 1850s New Zealand.