Arts on Sunday for Sunday 10 February 2013
12:43 The Physics Room reopens
A welcome return to Christchurch's CBD – the contemporary art space The Physics Room reopens two years after the big shake. Director Melanie Oliver describes what's changed and what's stayed the same. The Physics Room reopens this Wednesday with Louise Menzies' exhibition 'World, Business, Lifestyle, Sport'.

From World, Business, Lifestyle Sport by Louise Menzies
12:48 Hamilton's council-owned theatre spaces
Hamiltonians are being asked if they want to keep subsidising three council owned theatre spaces. Hamilton Mayor Julie Hardaker explains the reasons behind the move and the implications for local theatre companies if any of the venues are closed down.
1:10 Movies with Simon Morris
Simon Morris drops by for a catch up of the latest batch of movies and to chat to the director of the Kiwi film Mt Zion.   
1:31 The Cuba Street Project
Fiona Gunter-Firth escorts us around Wellington's creative hub, Cuba Street, as part of a multi media art installation  she's created about its past, present and future. The Cuba Street Project opens on Friday February 15 on the street itself and online as part of the Wellington Fringe Festival.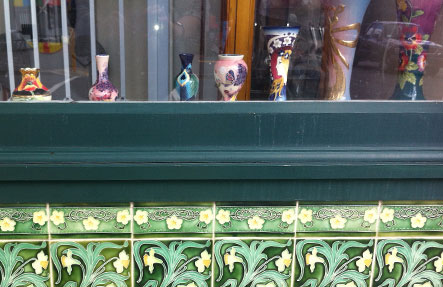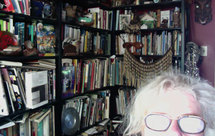 1:41 Judy Darragh
Judy Darragh's art is sought after by many collectors – at the same time she's an avid collector herself. She talks about how she got started, what kind of art objects catch her eye and what makes a sound investment.
(Right: Judy Darragh)
1:48 Silo Park Summer of Sculpture
Auckland's Summer of Sculpture exhibition at Silo Park in the Wynyard Quarter is designed as a celebration of the best work of the city's best sculptors, the show gives old favourites a new home on the waterfront. Justin Gregory got in the way last week as the artists installed their works.
Gallery: Silo Park Summer of Sculpture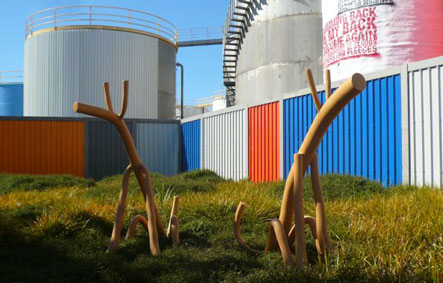 2:05 The Laugh Track
Comedian and poster designer Hadley Donaldson.
2:25 Writer Donna Malane
Writer for screen and page Donna Malane on writing crime fiction, tackling the troublesome second novel, and her latest on-screen project, a drama about conscientious objector Archibald Baxter.
2:35 Alfred, Lord Tennyson
Visiting Professor John Batchelor presents poet Alfred, Lord Tennyson in a new light – as a shrewd businessman and ingenious self-brander in his biography called Tennyson: To strive, to seek, to find which is published by Random. John Batchelor is giving a talk about Tennyson at the Dunedin Public Art Gallery this Tuesday.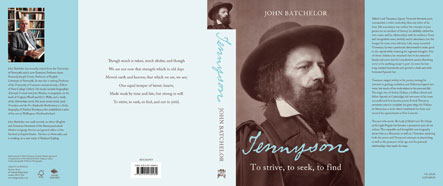 2:45 African art in Whanganui
Desmond Bovey takes Paul Diamond on a tour of his extensive collection of African art, which is on show at Whanganui's Regional Museum.
Gallery: Minkisi - Art and Belief in West and Central Africa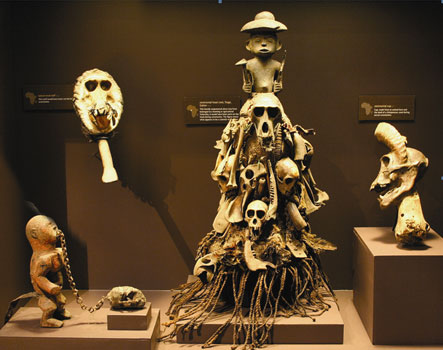 Photo: Desmond Bovey
3:05 The Drama Hour
The first part of Elspeth Sandy's series Shaping Up, and the premiere of Glen Walker's drama about international politics, personal politics and compromise, it's called Meltdown and written by Glen Walker.
Music played in this show
TITLE: One Love/People Get Ready
ARTIST: Bob Marley & The Wailers
COMP: Bob Marley, Curtis Mayfield
ALBUM: Africa Unite: The Singles Collection
LABEL: Tuff Gong 834503
TIME PLAYED: 12:10
TITLE: Sun is Shining (Yes King Remix)
ARTIST: Bob Marley & The Wailers
COMP: Bob Marley
ALBUM: Roots, Rock, Remixed
LABEL: Tuff Gong R0701
TIME PLAYED: 12:40
TITLE: No Woman, No Cry
ARTIST: Fugees
COMP: Bob Marley
ALBUM: No Woman, No Cry
LABEL: Columbia 663898
TIME PLAYED: 12:55
TITLE: Wages of Love
ARTIST: Bob Marley & The Wailers
COMP: Bob Marley
ALBUM: Destiny: Rare Ska Sides From Studio One
LABEL: Heartbeat 617691
TIME PLAYED: 13:05
TITLE: No Parking Zone
ARTIST: Fat Freddy's Drop
COMP: Fat Freddy's Drop
ALBUM: Live at the Matterhorn
LABEL: Fat Freddy's Drop 610304
TIME PLAYED: 13:25
TITLE: Naku I Puhi Te Apiha (I Shot the Sheriff)
ARTIST: Ruia & Ranea
COMP: Bob Marley
ALBUM: Waiata of Bob Marley
LABEL: Maori Music 239100
TIME PLAYED: 13:55
TITLE: Get Up, Stand Up
ARTIST: Peter Tosh
COMP: Bob Marley, Peter Tosh
ALBUM: The Best of Peter Tosh
LABEL: Columbia 465921
TIME PLAYED: 14:05
TITLE: The Lady of Shalott
ARTIST: Anton Lesser and Simon Russell Beale
COMP: Alfred Lord Tennyson
ALBUM: Popular Poetry, Popular Verse
LABEL: Naxos 990016
TIME PLAYED: 14:30
TITLE: Whimsy Groove
ARTIST: Kevin Macleod
COMP: Kevin Macleod
LABEL: http://incompetech.com/music/royalty-free/index.html?genre=African
TIME PLAYED: 14:45
TITLE: Concrete Jungle
ARTIST: Céu
COMP: Bob Marley
ALBUM: Tribute to a Reggae Legend
LABEL: Putumayo
TIME PLAYED: 14:55
TITLE: Redemption Song
ARTIST: Bunny Wailer
COMP: Bob Marley
ALBUM: Retrospective
LABEL: Solomonic 689600
TIME PLAYED: 15:55