Arts on Sunday for Sunday 9 December 2012

2:42 Whanganui's historic art gallery the Sarjeant
A fundraising appeal's been launched targeting people who love the gallery. Mayor Annette Main talks about what work needs to be done on the hundred year old gallery.
12:49 The Moas
Ant Timpson was one of the organisers of the Sorta Unofficial New Zealand Film Awards.
1:10 At The Movies
Oscar-nominee Monsieur Lazhar, awards favourite Beasts of the Southern Wild, and a little Welsh musical that remembers the Seventies, Hunky Dory.
1:34 The rise of the comic book
The graphic novel is one of the phenomena of modern publishing. In America the field is dominated by superheroes and pulp fiction. In Europe is rather different. So where does New Zealand fit into the mix? Veteran comic-book writer and illustrator Dylan Horrocks has just returned from Europe where he attended the Frankfurt Book Fair and a comics convention in Italy. He says we're going through a Golden Age of New Zealand comics...
1:42 Award-winning designer, Peter Haythorn-Thwaite
In a career spanning four decades, Peter Haythorn-Thwaite has produced successful and award winning designs and taught new generations of Kiwi designers. His design for a light operated mouse and keyboard to help people with disabilities to use computers using light sensor technology, won an international award.
1:50 Boheme Gallery
Bronze sculptor Megan Ransom considers herself an outsider and insists on doing things her own way, so she's set up an art gallery in the seaside suburb of Island Bay. She aims to promote New Zealand fine artists, make art accessible and affordable, and nurture up and coming talent in an environment which is fast being over-run with mass produced art from the overseas market.
2:04 The Laugh Track - Bernard Bennett
2:25 Otago University's Hocken Library
Otago University's Hocken Library is starting to outgrow the new site it moved to over a decade ago. It's home to many thousands of historic, literary and artistic treasures, and the collection continues to grow through gifted items and auction purchases. Natalie Poland is the the Curator of Pictorial Collections.
2:35 Chapter & Verse
Rosemary Wildblood's novel Pentimento and this hill, all it's about is lifting it to a higher level by Vaughan Gunson.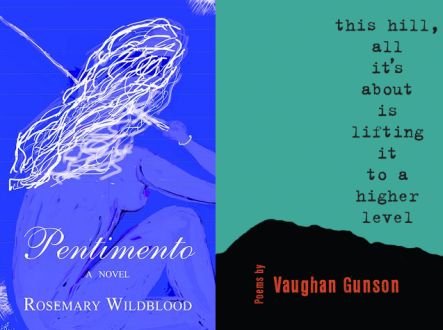 2:52 Photographer Greg Semu
The Asia Pacific Triennial in Queensland is one of the largest visual arts events in the region. It opened yesterday, and among the New Zealanders whose work can be seen there is photographer Greg Semu. His large-scale images often reimagine famous artworks, like Leonardo's Last Supper. Greg set his version in Polynesia, called it Last Cannibal Supper, and took it to the Triennial.

Auto portrait with 12 disciples (from 'The Last Cannibal Supper... 'cause tomorrow we become Christians' series) (detail)  2010, reprinted 2012 Digital print on PVC canvas, light box, ed. of 10 / 120 x 250cm / © Greg Semu / Image courtesy the artist and Galerie Metropolis, Paris.
3:05 The Drama Hour
Part two of Phillip Mann's bizarre The Gospel According to Mickey Mouse.