Arts on Sunday for Sunday 11 November 2012
12:40 The renovated National Library
A behind the scenes tour of the renovated National Library – a previously leaky home to New Zealand's precious documents. Taxpayers have put in around $65 million for the refit…what do we get for our investment. Lynn gets a guided tour of the refurbished 1980s building ahead of its grand reopening, with National Librarian Bill McNaught.
1:10 At The Movies
Argo tells the unbelievably true story of a CIA plan to smuggle hostages out of Iran under the guise of a fake movie.
1:32 More public art in Christchurch
It's a monumental weekend in Christchurch with the unveiling of Joanna Langford's giant airborne city sculpture and the start of the Art Beat Initiative of live performances at the popular Restart Mall in the CBD. We hear all about it from Deborah McCormick and Lucy Matthews.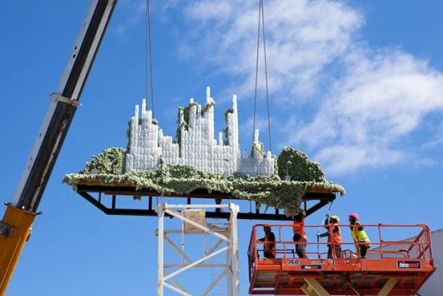 Joanna Langford, 'The High Country', Corner Montreal and Kilmore Streets. Photo: Bridgit Anderson.
1:41 Artist Fatu Feu'u
A conversation with one of this country's most influential early Pacific Island Painters, Fatu Feu'u, who came to New Zealand from Samoa in the 1960s. He was taken under the wing of artists like Tony Fomison who helped him forge his career as a paint, sculptor and medallion maker. Fatu has told his life story to his friend Shona Jennings for a new book published by Little Island.
1:55 Ann Hunt reviews the Royal New Zealand Ballet's new-look Giselle which is touring the country
2:05 The Laugh Track
The very busy Barnaby Weir of The Black Seeds and Fly My Pretties fame, with the former band just picking up a gong at the New Zealand Music Awards.


Barnaby Weir.
2:26 South African theatre company Isango
The Isango Ensemble has captured world attention for giving western theatre classics an African twist. But while they are in demand at festivals and concert halls around the world, they're struggling to get an audience at home or any government funding. Frank Kronenberg explains why they'd love to come to New Zealand.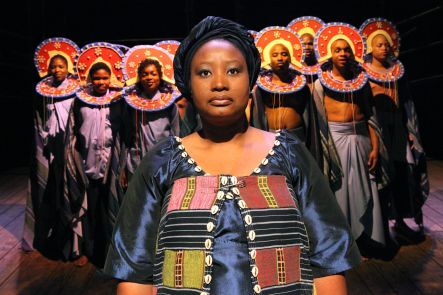 The Isango Ensemble.
2:35 Chapter & Verse
Poet Ashleigh Young whose collection is called Magnificent Moon... and novelist John Sinclair who sets his story about a violin prodigy in 20th century China in The Phoenix Song. Both are Victoria University Press publications.
2:53 The Semi-Permanent Design conference
Wellington's first crack at hosting the Semi-Permanent Design conference, a meeting of local and international creative minds. It's a concept that started in New Zealand and is now being held around the world. Founder and director Simon Velvin reveals the line up.
3:05 The Drama Hour
The disturbing true tale of a man who dared to take a stand against his country's blasphemy laws.