Arts on Sunday for Sunday 4 November 2012
12:43 Urbanlife
Auckland Museum matches artists and performers with young people, gives them a big issue like the environment, housing and employment, and invites them in to respond to items in its collection. Now we can see the outcome of all this matchmaking, the Urbanlife exhibition, from a graff art mural, devised theatre and a soundscape, to spoken word poetry, photography and tee shirts with memorable slogans.
Hana Maihi's blog entry on the creation of the mural.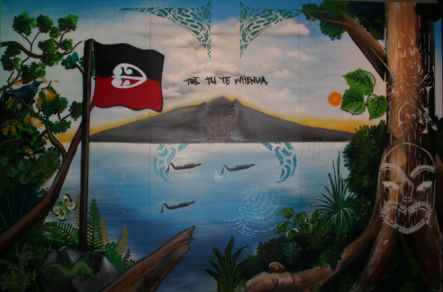 The graff mural.
12:48 Penguin / Random House merger
In what's described as one of the biggest shake ups in New Zealand publishing industry history—will the Penguin/Random House combo save Kiwi readers money? And what will it mean for both companies staff and the authors they represent? Fergus Barrowman (right) from Victoria University Press and Lincoln Gould from Booksellers New Zealand discuss the pros and cons.
1:10 At The Movies
Simon Morris returns with a special At the Movies devoted to good old fashioned Westerns….he's in conversation with fellow Western fan, film director Lee Tamahori.
1:35 The Actors Program
How long does it take to train an actor? How long have you got? Most actors will tell you that a lifetime isn't long enough. Toi Whakaari New Zealand Drama School in Wellington and Unitec in Auckland offer three-year degree courses for young luvvies. But The Actors' Program in Auckland say a one year, high-intensity, back-to-basics acting course will do the job and will turn out what they say are match-fit and industry ready actors. Justin Gregory reports.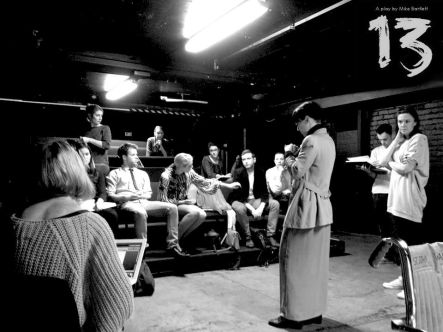 The graduating class of The Actors' Programme rehearsing at the Basement Theatre. Photo by Adam Baines.
1:47 Arcade: Homegrown Video Games
Like the film industry, New Zealand's involvement in gaming has blossomed, and The Dowse Art Museum are hosting an exhibition, Arcade, to celebrate the creativity of talented local games creators and developers. But it's still contestable as to whether or not video games are in fact art. Sonia Sly speaks to Lincoln University philosophy lecturer Grant Tavinor, InGame's- Stephen Knightly, and games writer for Ancient Workshop, James Brown, to find out where they stand and how they see the craft of games creation.
Gallery: Arcade - Homegrown Video Games

Ancient Frog by Ancient Workshop artist James Brown. Image courtesy of The Dowse Art Museum.
2:05 The Laugh Track
Veteran of the 7 Days comedy show Paul Ego ahead of the team going out on the road with a live show.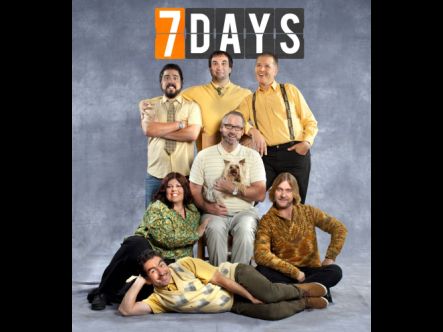 2:25 American prima ballerina Gillian Murphy
Gillian Murphy returns to the Royal New Zealand Ballet to dance her first time as Giselle… we chat about among other things how demands on ballet dancers are changing.

Gillian Murphy as Giselle. Image by Ross Brown.
2:35 Tigers of Wrath
Urther Dean reviews Dean Parker's latest play, Tigers of Wrath, on at Circa Theatre in Wellington.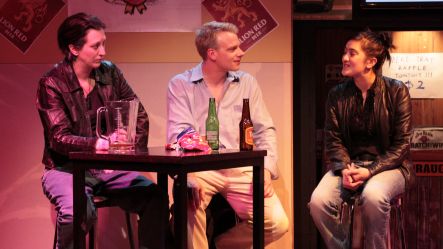 Heather O'Carroll, Nathan Meister and Neenah Dekkers-Reihana in Tigers of Wrath.
2:40 Blenheim potter Fran Maguire
Fran Maguire had a win at the country's biggest ceramics event, where she won a merit award for her work 'Impulse' which the judge described as 'clever and visually stunning'.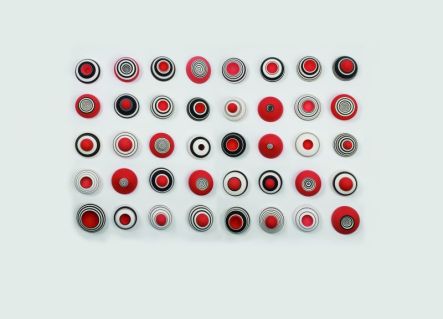 Impulse by Fran Maguire.
2:48 Into The Uncanny Valley
Shaun D Wilson continues his quest to find out what it takes to get Into The Uncanny Valley onto the stage, as the new high-tech play tries to communicate the story of physics to the theatre-going public.
3:05 The Drama Hour: The Upward Mobility of Gordon Reddy by Sue McCauley
Apart from the inevitable office politics and the unfathomable corporate culture, the world of 'The Office' that the drama traverses is one where change is frequent and frustration constantly bubbles just below the surface.