Arts on Sunday for Sunday 28 October 2012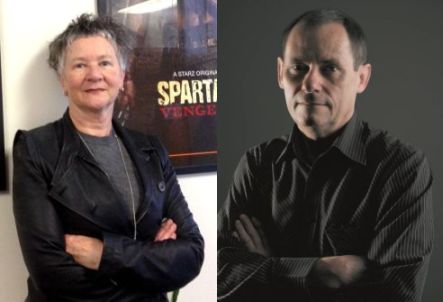 12:43 The end of the Spartacus shoot in Auckland after four intense years…
What has it contributed to the television industry and what if there's nothing to fill the gap? Chloe Smith (right)  is the producer of Spartacus. We also talk to post production specialist Gary Little (far right).
Trailer: Spartacus - Blood and Sand on YouTube (contains violence and nudity)

12:48 Actress Tandi Wright
Tandi Wright, one of our busiest actresses, (Nothing Trivial, Kiwi Flyer, This is Not My Life) talks about why so many of her peers have to go offshore to find work, and why Actors Equity is fighting for actors to receive residuals like their peers overseas.
Left: Tandi Wright.
1:10 At the Movies
Simon Morris interviews Ben Lewin, director of The Sessions.
1:25 Behind the Canvas
Warwick Henderson offers invaluable advice for people thinking about investing in art. Despite the tough economic conditions, art remains a popular investment. Warwick's book, an insider's guide to the New Zealand art market, is called Behind the Canvas and is published by New Holland.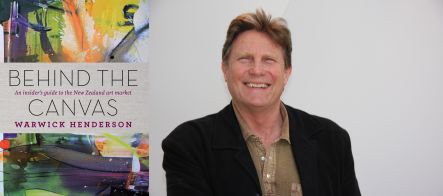 Behind the Canvas: Warwick Henderson.
1:37 The future of temporary public art in New Zealand
Organisers of three of the most creative art events in the country join together to discuss the future of temporary public art in New Zealand. Sophie Jerram is from Letting Space, Sam Trubridge created the Performance Arcade where art takes place inside containers, and Ryan Reynolds co-founded Christchurch's GapFiller project.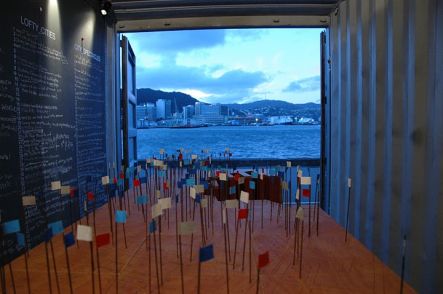 Peformance Arcade on Wellington's Waterfront.
1:53 Jacques Brel tribute
Director Michael Hurst and singer/songwriter Tama Waipara, who're involved in a tribute to Jacques Brel explain why the highly theatrical and tortured soul that was is one of the most covered songwriters in history.
2:05 The Laugh Track
British comedian and actor, Alan Davies, ahead of his New Zealand tour in the New Year.
Right: Alan Davies.
2:23 Campbell Kneale
Whether it's his music or visual art, Campbell Kneale views his creative process as a means to document moments in time. He's combining his two practices in an exhibition entitled 201012 at City Gallery in Wellington.

Campbell Kneale performance at City Gallery. Photograph by Justine Hall.
2:33 Three Days in a Wishing Well
It's taken almost 40 years but Christchurch poet Kerrin Sharpe has realised her dream and published her debut poetry collection, Three Days in a Wishing Well.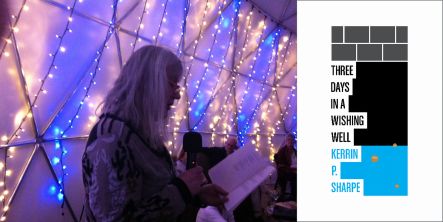 Kerrin Sharpe - Three Days in a Wishing Well.
2:40 Into The Uncanny Valley
Shaun D Wilson sits in on a production meeting for the new play Into The Uncanny Valley which blends music and physics, it opens at Wellington's Bats Theatre on Saturday 3 November.
2:50 Potted Potter
A conversation with two actors who're putting the Harry Potter epic on stage, in just one hour. It's called Potted Potter.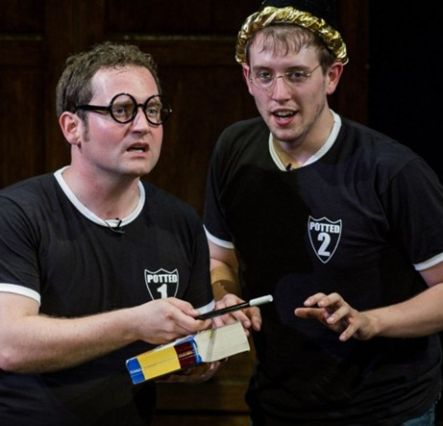 Gary Trainor and Jesse Britton in Potted Potter.
3:05 The Drama Hour
Cross Over by Stephen Walker is the story of a child's imaginary friend – who refuses to leave.