Arts on Sunday for Sunday 16 September 2012
12:43 Remembering Don Binney
12:48 The Toronto Film Festival
NZ Film Festival director Bill Gosden reports in from the Toronto Film Festival where several New Zealand movies have earned standing ovations.
1:10  At The Movies
Simon Morris reviews Hysteria, Wunderkinder and Hit and Run. 
1:31 The Les and Milly Paris Art Collection
Ahead of one of the art auctions of the year, we remember the Les and Milly Paris Art Collection, gathered over decades of the Wellington couple falling in love with works of art. A candid Milly gives an interview in her art filled lounge before the works that won't accompany to her new home in Australia, are taken down for sale. See a video of the works.
Gallery: photographs taken by Lynn Freeman at Les and Milly Paris's home

Milly Paris.
1:17 Celebrating Women in Construction
Anything a man can do….a woman might do differently and that's positive as far as the women who work in the construction industry are concerned. 'Celebrating Women in Construction' is a photo exhibition organised by NAWIC: National Association of Women in Construction which launches at Thistle Hall gallery this week. Their goal is to showcase the diversity of roles and contribution that women are making in all aspects of the industry; archaeology, plastering, engineering, carpentry, abseil painting and more. Sonia Sly meets some of the women who have become reluctant poster girls for the exhibition.
Gallery: Celebrating Women in Construction

Celebrating Women in Construction: Clare (painter). Images courtesy of NAWIC.
2:05 The Laugh Track
Vince Martin, the face of a NZ tyre company's ad campaign for years and now the baddie in the film Kiwi Flyer.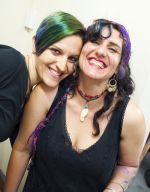 2:26  Body Art
We find out about the pitfalls and possibilities of using the human body as a canvas. Margo JG and Angela Wells run Wellington body art business Lulu's Face and Body Art. They're about to compete against each other at the upcoming New Zealand Body Art Showcase.
Right: Angela Wells and Margo JS.
2:35  Chapter & Verse
Out featured writers are Gregory O'Brien, talking about his book on a painter with one of the brightest palettes in New Zealand art history, Pat Hanly, while first time novelist Kirsten McDougall (pictured below) lands her protagonist, Phillip Fetch, with the ghost of his mother in her book, The Invisible Rider.
Gallery: images from Pat Hanly by Gregory O'Brien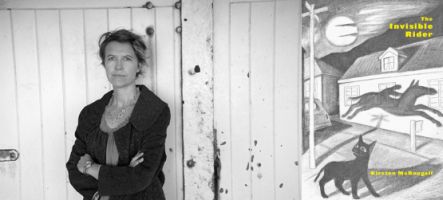 3:05   The Drama Hour
Part one of the Roger Hall comedy Who wants to be 100?  Anyone who's 99!