Arts on Sunday for Sunday 9 September 2012
12:43 How traditional crafts have transformed into craft art
The Academy of Fine Arts hosts a symposium this weekend for galleries, design schools and those making jewellery, ceramics, textiles and furniture. We speak to the Kete symposium's special guest, Australian curator and academic Kevin Murray, who's the online editor for the Journal of Modern Craft, and to Warren Feeney from the Academy of Fine Arts.
12:48 Watermarking exhibition
Wellington Harbour is being recreated, in miniature, in Liverpool for that city's Biennial. It's the UK's largest international contemporary Art Festival. Three New Zealand artists and two curators are putting the finishing touches to the Watermarking exhibition they've created for the Biennial. We talk to Melanie Oliver and to two of the artists, David Bennewith and Marnie Slater.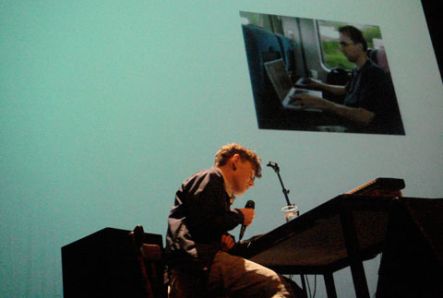 David Bennewith at the Biennial.
1:10 At The Movies
American independent film producer Ted Hope talks to Simon Morris.
1:31 White Cloud: Stories and Songs
Singer/songwriter Tim Finn and playwright Ken Duncum mine their family histories to create a show about what it means to be a Kiwi. White Cloud: Stories and Songs premieres at Bats Theatre in Wellington on the 12th of September.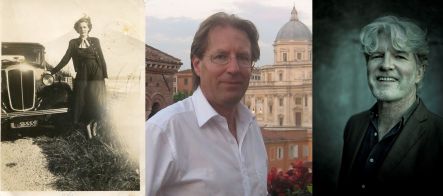 Left: Ken Duncam's mother on her honeymoon. Centre: Ken Duncam. Right: Tim Finn.
1:41 The Bartered Bride
Opera director Daniel Slater on his take on The Bartered Bride, the next production from NBR New Zealand Opera. His version includes a highly technical circus act as part of Smetana's classic work.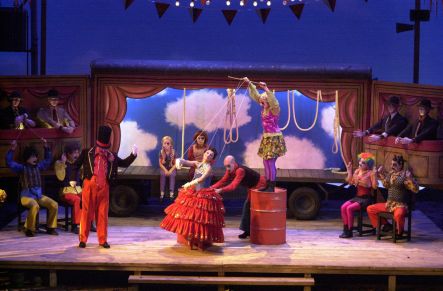 New Zealand Opera's production of The Bartered Bride.
1:53 Royal New Zealand Air Force Band
After more than a decade in charge, Flight Squadran leader, music director and conductor Owen Clarke prepares to conduct the Royal New Zealand Air Force Band for one last time at the upcoming Proms.
2:05 The Laugh Track
Musician, actor and writer Jamie McCaskill talks about the upcoming premiere of his new play Manawa, at Wellington's Circa Theatre.
2:26 Kobi Bosshard: Goldsmith
Curator and writer Damian Skinner details the life, work and contribution to New Zealand jewellery of Swiss-New Zealand jeweller Kobi Bosshard. Damian's written a book, Kobi Bosshard: Goldsmith, published by Bateman, and curated a retrospective exhibition for Objectspace.
Gallery: Kobi Bosshard: Goldsmith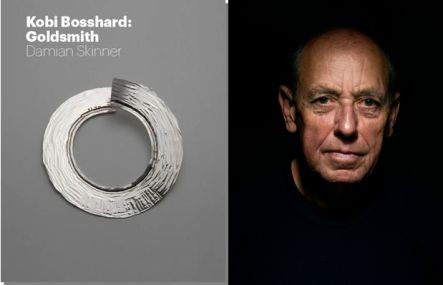 Portrait of Kobi Bosshard by Mark Adams.
2:36 When In Rome
Nicky Pellegrino imagines what it might have been like working for the late singing sensation, tenor Mario Lanza, in her latest novel, When In Rome. Lanza's fame came a tremendous cost to his family and to himself.
2:44 Validating Self-Taught Art
The international art scene has embraced the work of so called outsider artists or self-taught artists for more than a decade, but the work by self-taught artists but has been slow to latch onto the hearts and minds of New Zealand's contemporary arts arena. So who are New Zealand's self-taught artists, where do they come from and where do they sit in the broader context of New Zealand's contemporary art culture? Sonia Sly speaks to artist and curator Stuart Shepherd, artist Fraser Hoffe and chief executive of Artists alliance Maggie Gresson about outsider art and inclusion as Arts Aotearoa launch an exhibition Original Voices, where 60 works by self-taught artists have been selected from 300 submissions around New Zealand. Outsider or self-taught art has been big overseas for more than 20 years. Curator Stuart Shepherd tells Sonia Sly that New Zealand needs to catch up with the rest of the world.


From left: Stuart Shepherd, Maggie Gresson and Fraser Hoffe.

Setting up work for Original Voices at Pataka Museum of Arts and Cultures. Image courtesy of Arts Access Aotearoa.
2:55 Clybourne Park
David O'Donnell reviews the New Zealand premiere of Clybourne Park, a play about racism and real estate that's won a Tony, an Olivier and the Pulitzer Prize.

Clybourne Park at Circa Theatre.
3:05 The Drama Hour
A play from the prolific and political Dean Parker – spy drama Midnight in Moscow.