Arts on Sunday for Sunday 22 July 2012
12:43 Big A award-winning artiste Sarah Houbolt
Being a circus performer is a demanding enough artistic career for anyone who pursues it, but the Big A Award-winning artiste Sarah Houbolt is also legally blind.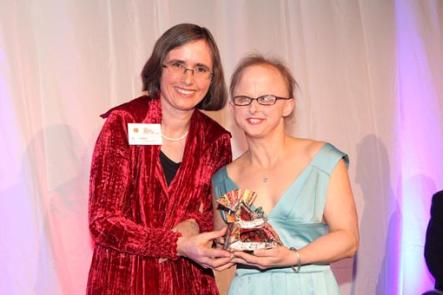 Mojo Mathers and Sarah Houbolt. Image courtesy of Access All Areas.

12:48 Hard to Swallow
The top of the South Island hosts two exhibitions designed to get people thinking, and talking… one's about whaling with mini sculptures created by Graham Bennett (left), and the other is a community-based project about drilling for oil off the New Zealand coast.
1:10 At The Movies
Two potentially creepy films – from America Ted, about a teddy-bear come to life, and from New Zealand, How To Meet Girls From A Distance, starring a would-be lovable stalker...

1:31 Tenor Simon O'Neill
One of New Zealand's opera sensations – and that's no exaggeration – tenor Simon O'Neill (right), who's been to Wagner boot camp in preparation for a New Zealand production of The Valkyrie. Photograph by Fraser Harding.

1:43 Who is buying art and is art accessible for a new generation of collectors?
Melbourne-based collector Juan Garcia (left) wanted to find a way to make the process of buying art as transparent and simple as possible, and he's set up a website called Art Fido. It works just like TradeMe or eBay with the exception that its purely for selling and buying art online and to-date there are already 50 New Zealand artists listed on the site. But is it a safe way to buy art, what about the risks for artists, and will sites like this take dealer galleries out of the picture? Sonia Sly speaks to Juan Garcia , Gary Langsford of Gow Langsford Gallery and visual artist Bee Dougherty Pratt to find out more.

2:05 The Laugh Track
Actor Sam Neill (right) spins his favourite comedy tracks and talks about his present and future projects, in New Zealand and overseas.
2:26 The Music Director of Wellington's Orpheus Choir, Mark Dorrell
On rubbing shoulders with Stephen Sondheim, Dame Judie Dench and Hugh Jackman, and one of his musical heroes…composer Leonard Bernstein. Mark is behind the choir's upcoming production of Bernstein's comic opera, Candide.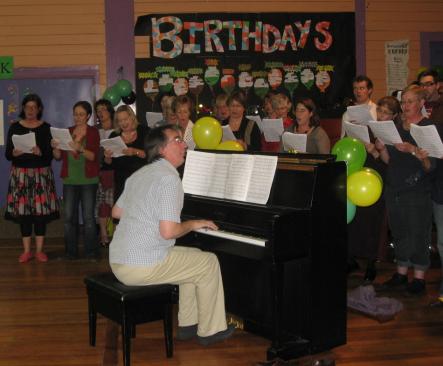 Mark Dorrell with the choir.
2:34 Chapter & Verse
The truly remarkable story of deer culler and bush man Stag Spooner who created a detailed visual diary and illustrated envelopes which he sent home during his war service. His story is told by Chris MacLean in the Craig Potton published book Stag Spooner: Wild Man from the Bush, and the latest poetry collection from Janet Charman, At the White Coast published by AUP.

Left: Neville ("Stag") Spooner. Right: Envelope decorated by Spooner.

Extract from page one of Spooner's 1939 diary.
2:53 Nuclear Family
Mother and daughter playwright and actress, Desiree and Yael Geventsky (below) who've brought their Edinburgh Fringe Festival hit play Nuclear Family to New Zealand. It's based on their family story and Russian Jewish immigrants living here when Chernobyl exploded.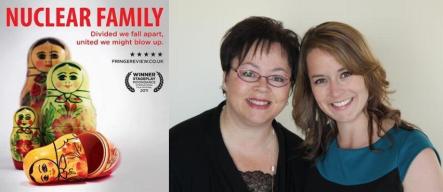 3:00 The Drama Hour
Actress/writer Sophie Kendrick Goes Solo, O le Samaria is an ingenious retelling of the Good Samaritan story, set in Samoa, and this series of Joe Musaphia's The Gullibles comes to an end.