Arts on Sunday for Sunday 6 May 2012
12:40 National Flash Fiction Day
A national writing competition for the very, very succinct. It's exclusively for those who write short short stories.


Flash Fiction organisers Sian Williams and Michelle Elvy.
12:50 Canterbury University arts cuts
Four years after it was apparently saved, now the Film and Theatre Studies course at Canterbury University is under serious attack.
1:00 At The Movies
The Avengers, The Way and A Dangerous Method.
1:30 Listener's Pick
Naomi Middleton from Wellington selects 'Old as the Hills' by New Zealand singer-songwriter Tiny Ruins.
1:40 Cat Auburn
The artist – and Weta Workshop artisan – explains her fascination with deer and horses.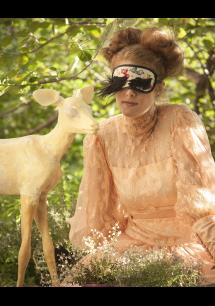 Left: Alchemy and the Iron Curtain, 2012 by Cat Auburn. silver, 170 x 80 x 30mm Photo by Steve Unwin Photography
Right: Training Aids, 2012 by Cat Auburn. expanding foam, leather. Dimensions variable. Photo by Steve Unwin Photography
1:50 Baritone Warwick Fyfe
The Australian baritone girds his loins for what he calls the zenith of the Verdi baritone repertoire - the title role of the opera Rigoletto (pictured below).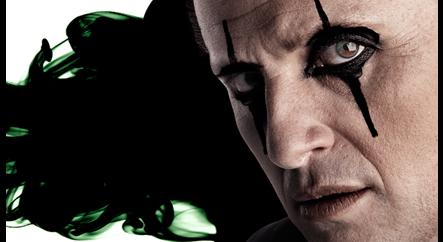 2:00 The Laugh Track
Canadian comedian Craig Campbell (below), who patriotically picks other comics from the Great North, including Craig Wool, J P Mass and Stewart Francis.
2:25 Jo Tito and Todd Sheridan
Gisborne-based couple Jo Tito and her partner Todd Sheridan are both full time practicing artists but each have very different visions about their art and where it sits in the context of Maori Art. Jo Tito calls herself a storyteller combining her photography with rock painting to communicate the importance of looking after the environment, whilst Todd learnt traditional whakairo techniques to tell contemporary stories with recycled and modern materials.


Left: Jo Tito's Rock a Day - Mountain to Sea. Right: glass art by Todd Sheridan.
2:35 Chapter & Verse
The versatile British writer Geoff Dyer talks about yoga, not writing a book on D H Lawrence, and why he's inspired by the cult Russian film Stalker; and the beloved novelist and short story writer Witi Ihimaera celebrates his debut, 40 years ago, with the short story collection Pounamu Pounamu.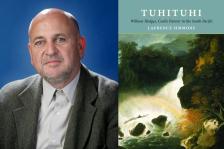 2:52 Tuhituhi: William Hodges, Cook's Painter in the South Pacific
Auckland University's Laurence Simmons (right) explores the work of the 18th century painter, who introduced the beauty of the South Pacific to a fascinated world after travelling with Captain James Cook.
3:00 The Drama Hour
A quirky little piece from some Toi Whakaari students, a brilliant solo play from Simon Leary and the final episode of series one of Skin Writing.