Arts on Sunday for Sunday 8 April 2012
12:40 Society Slump Superstars
What if life was a musical and it could help to relieve society from the doom and gloom of the global economic crisis?
That's the question posed in a tongue-in-cheek musical created by Nelson-born Josh Stewart. He's created a world where the Prime Minister has his own backing singers, and if you want to live you have to sing for your life. Sonia Sly finds out about the power of musicals and why the TV series Glee has a lot to answer for.

The cast of Society Slump Superstars. Photograph by Francesca Geach.
12:50 David Proud, one of the founders of the National Jazz Festival
Celebrating the 50th anniversary of the National Jazz Festival in Tauranga this weekend.
1:00 At the Movies
Simon Morris compares and contrast two films aimed at young adults – from Britain Attack The Block, and from America The Hunger Games;  and something for the rather older – French feelgood hit The Women On The 6th Floor.
1:30 Listener's Pick
The movie Oh What A Lovely War.
1:40 The Laugh Track
Storyteller Mary Kippenberger.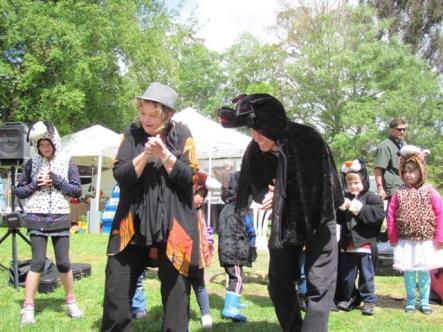 Mary Kippenberger in action.
2:05 Why isn't theatre dead yet?
A panel recorded at the recent New Zealand International Arts Festival Writers and Readers Week in Wellington, debating the premise that theatre is dead.

Panellists Dave Armstrong, Ken Duncum and Robert Shearman.
3:00 The Drama Hour
Plays and interviews in a new magazine style programme.