Arts on Sunday for Sunday 25 March 2012
12:40 We meet the winner of the 2012 Adam New Zealand Play Award
12:50 The government's plan to scale back council's 'cultural' responsibilities
We try to establish how the new look local councils will deal with the arts communities under the government's plan to scale back their 'cultural' responsibilities. We hear from a concerned festival organiser and the head of Local Government New Zealand.
1:00 At The Movies
The independent American film with the impossible name - Martha Marcy May Marlene.
1:30 Listener's Pick
Jo Murphy's best loved poem by W H Auden.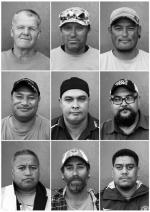 1:35 Port Workers
Artist Fiona Jack gets political and public with her new work, a large series of photographic portraits of Auckland port workers involved in the current industrial dispute.
Right: PORT WORKERS: A poster project by Fiona Jack, 2012
1:50 Te Hono ki Aotearoa
Jan Beiringer talks about her documentary Te Hono ki Aotearoa, which follows a Dutch museum's commissioning of a genuine Maori war canoe. It's a journey from Old Zealand to New Zealand and back again.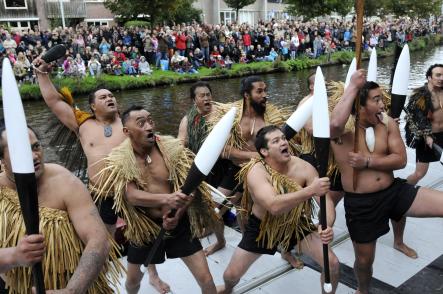 Stills from the film Te Hono ki Aotearoa.
2:00 The Laugh Track
The new artistic director of Palmerston North's Centrepoint Theatre, Jeff Kingsford-Brown. Jeff's picks are Ricky Gervais - Hitler; Les Dawson - Mother in law; Father Ted - Mrs Doyle is shocked; Harry Enfield and Paul Whitehouse - Angry Frank; and Bob Newhart - Stop it.
2:25 Happy 25th Anniversary to Artspace
It's happy 25th Anniversary to Artspace in Auckland, we talk to two of its founders, Wystan Curnow and Mary-Louise Brown about why it broke new ground when it was opened and how it's moved with the times.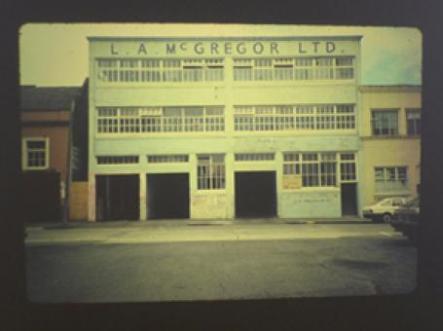 One of the first homes of ARTSPACE, Federal St, Auckland, 1987.
2:30 The history of the book
Professor Leslie Howsham is an authority on the history of the book - which goes back much further than you might think.
2:50 Artist Katy Buess on volunteering in Vanuatu
Invercargill-based print maker Katy Buess had always dreamt of volunteering abroad but felt she didn't have any practical skills to offer. But an opportunity eventually came her way…She chats with Sonia Sly about how an experience as part of a VSA programme in Vanuatu has informed her work, along with the rewards and challenges of conducting an art-based rehabilitation programme in a local men's prison.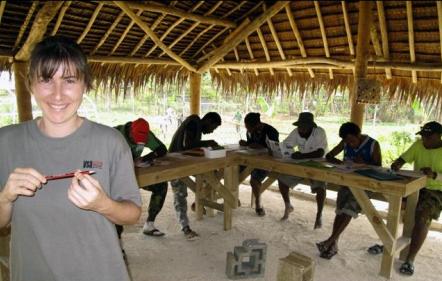 Katy Buess in Vanuatu.
3:00 The Sunday Drama: Jolt, by Bernard Beckett
A psychological thriller about four teenagers caught up in a terrifying adventure on a school trip.