Arts on Sunday for Sunday 11 March 2012
12:40 Goodbye Irene
Goodbye Irene is play created by a West Coast theatre company that picks topical issues for its productions, this time taking the Pike River Mine Disaster as its starting point.


Freya Johnson, Heather Fletcher, Jason Johnson and Paul Maudner in Goodbye Irene.
12:50 Filmmaker Taika Waititi
Taika Waititi is in the USA drumming up support and audiences for his New Zealand blockbuster film Boy. We find out his unique marketing attack, how the film is going down over there, and his future plans.
1:00 At The Movies with Simon Morris
Simon Morris looks at the award-winning Tilda Swinton film, We Need To Talk About Kevin;  the Norwegian hit thriller Headhunters, written by Jo Nesbo; and the documentary about a New Zealander captured and killed by the Khmer Rouge, Brother Number One.
1:30 Listener's Pick
Our first painting, one by a New Zealand artist with a particular love of the exteriors and interiors of houses.
1:35 Gap Fillers
We profile Coralie Winn, the woman behind Christchurch's extraordinarily popular and ingenious Gap Filler Project. Since the initial September earthquake she's been spearheading the project, creating outdoor cinemas and now a dance floor in empty abandoned spaces for the people of Christchurch.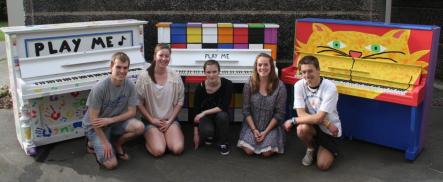 Brightly painted pianos now filling gaps in North Beach, Woolston and Sydenham for anyone to play.

Cycle-Powered Cinema! taking place on a vacant site in Christchurch.

1:50 Alex Taylor, composer in residence with the National Youth Orchestra
One of the future stars of New Zealand composition, Alex Taylor (right), this year's composer in residence with the National Youth Orchestra - they better watch out he has big plans for the work he's composing for the young musicians.
2:00 The Laugh Track
Comedian TJ McDonald, MC of the Raw Comedy Festival in Auckland.
2:25 Invercargill artist Anna Claire
Sticks and stones may break your bones, but its spiky brass creatures that are likely to hurt you. Sonia Sly meets Invercargill-based artist Anna Claire.
2:35 SPORT
Victoria University Press publisher and the editor of the literary anthology SPORT, Fergus Barrowman (below right) looks back on almost a quarter of a century championing new New Zealand writing. The latest edition also profiles new German writing, with New Zealand being the Frankfurt Book Fair's Country of Honour in 2012.
2:45 Earthquake to Exquisite & Smoke Signals
Two artists who're about as different as you can get - Rona Cooper prepares for her last exhibition at the age of 80, reclaiming china broken in Christchurch's earthquakes… while grafitti artist Askew One has spent years creating art on the streets is now making art for galleries.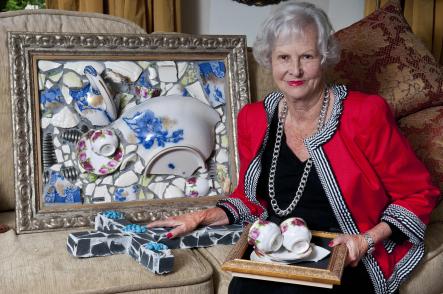 Left: Rona Cooper with her work.
3:00 The Sunday Drama: Ride on Time by Allen O'Leary
An epic of cycle couriers and artificial insemination.