Arts on Sunday for Sunday 26 February 2012
12:40 Dunedin makes a push to rebrand itself as an 'arts city'
Bridie Lonie and Allan Baddock talk about plans for a creative hub and New Zealand's answer to creative cities like Barcelona, Glasgow and Newcastle.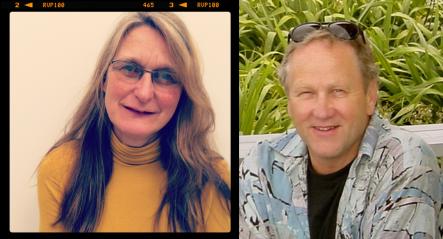 Bridie Lonie and Allan Baddock.
12:50 The Australian Performing Arts Market showcase
We cross to Australia where several New Zealand arts companies are preparing to sell themselves to visiting International Arts Festival directors at the APAM showcase.
1:00 At The Movies
Two more Oscar hopefuls - George Clooney's The Ides of March and the smart Moneyball, starring Brad Pitt and Jonah Hill.
1:30 Listener's Pick - our first poem
Teoti Jardine explains why he's so keen on a particular Cilla McQueen poem.

1:40 The Motor Camp
Anna Henare (right) explains how she's opening up the world of the theatre for people with sight impairments.
1:50 Stephen Martyn Welch
The winner of the 2012 Adam Portraiture Award explains his initial love hate relationship with his self portrait and his work on a series of portraits for The Sitting, a series that will see TVNZ7 sign off with style.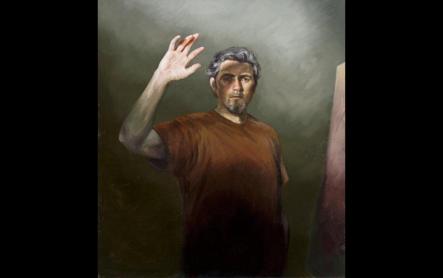 3 Nights,  A Mirror Loads & of Coffee, oil on canvas, self portrait by Adam Portrait Award winner Stephen Martyn Welch.
2:00 The Laugh Track
Jesse Mulligan of Would I Lie To You fame.
2:25 Bass baritone Jonathan Lemalu
We catch up with New Zealand Opera sensation, Jonathan Lemalu (left), just before he returns home to perform in Chinese and te reo Maori. He talks about life on the road, how his voice just keeps getting deeper, and his first role playing a Samoan character in an American opera about Moby Dick.
2:40 Actress and administrator Tanea Heke
We profile Tanea Heke, who's charged with making sure New Zealand writers and publishers get the very most out of its year long invitation to share its literature with Germany.

Tanea Heke.
2:50 Jeweller Warwick Freeman
A conversation with one of New Zealand's highest profile jewellers, Warwick Freeman. He reflects on the early years when he and his colleagues had a lot less competition because of this country's protected market, and describes a new work that uses the once discarded multi coloured dust from the many metals, gemstones and other materials he uses in his work.
Gallery: images of Warwick Freeman's work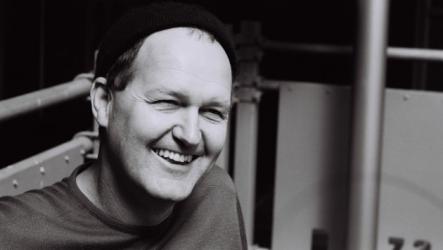 3:00 The Sunday Drama
A twenty-first century comedy of manners – Backwards In High Heels by Stuart Hoar.