Arts on Sunday for Sunday 2 October 2011
12:40 The future of the NZSO
The new CEO of the New Zealand Symphony Orchestra Christopher Blake on his big vision for the NZSO, here and overseas, when he takes over from Peter Walls in the New Year.
12:50 Orchestral sector under review
A review is underway by the Ministry for Culture and Heritage into whether this country's orchestras are giving us value for money. CEO Lewis Holden explains why it's being done and what it's looking into.
1:00 At The Movies with Simon Morris
The old, old story of Jane Eyre, and a brand new one from Samoa, The Orator.
1:30 Kiwi installation artist Kate Newby
Kate Newby has hardly been home over the last couple of years after being awarded residencies around the world, from Mexico to Germany, and she's just won another one - three months in the Big Apple.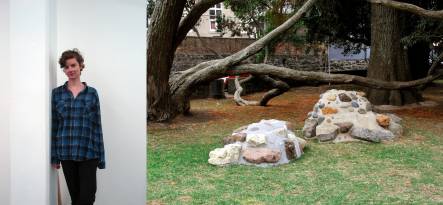 Left: Kate Newby. Right: You're in this somewhere, 2010, Kate Newby. Site work (Meyers Park) for post-Office, Artspace, Auckland. Images courtesy the artist and Hopkinson Cundy, Auckland.
1:40 Is truth more entertaining than fiction?
True Stories Out Loud is a show that sees people describe real events in ten minutes.

True Stories participants Lily Richards (left) and Jacinda Ardern (right).
1:50 Filmmaker Michelle Savill
Michelle Savill discovered some unexpected difficulties when she interned for New York's famous Killer Films.

2:00 The Laugh Track
Stage and screen actress Geraldine Brophy (left), whose latest stage appearance is a play by Pinky Agnew and Lorae Parry called Sex Drive. Her picks are: Stanley Baxter - Upstage downstage; Catherine Tate - Gay son; Phyllis Diller - Chicken legs.
2:20 Bottled Art
What is the connection between wine and art, and how do wine makers reflect their artform on their labels? Sonia Sly speaks to Geordie Witters of TW Wines, James Milton of Milton Vineyard, and Hayley McCairns from Yealands Estate.

Millton Wines label, Crazy by Nature.
2:30 Chapter & Verse
Dunedin-based poet Rhian Gallagher's second poetry collection is called Shift and follows her life from growing up on a South Canterbury Farm to living on a London estate to returning home after a long time away.
Art writer Damian Skinner has documented an extensive collection of René Lalique glass vases in Gisborne and looked into why it too took so long to catch on here in New Zealand.
Gallery: Glass vases by René Lalique and writer Damian Skinner

2:50 Crisis & Isolation
Palmerston North artist Kelcy Taratoa, whose interest in sci-fi, dating back to the original Battlestar Galactica TV series, has resulted in work which is in demand here and overseas, including at a global exhibition in Tel Aviv in Israel.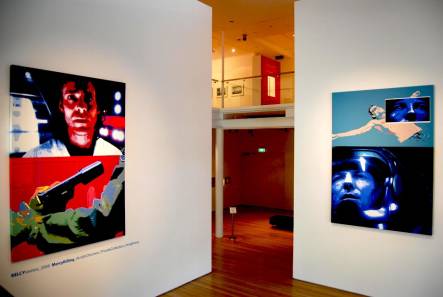 Installation images of the exhibition Crisis & Isolation at Tauranga Art Gallery.
Photograph courtesy Tauranga Art Gallery
 
3:00 The Engine Room - Helen vs John!
Wellington playright Ralph McCubbin-Howell compares the strategising that goes into an election campaign to the strategising that goes into an All Black test match. More than that, it takes us, and former and current Prime Minister Helen Clark and John Key, back to the 1981 Springbok Tour and to the 2009 election campaign. Elspeth Sandys reviews the premiere at Bats Theatre.
3:08 The Sunday Drama
The first episode of a five-hour work by Canadian artist and writer Douglas Coupland entitled Player One: What Is to Become of Us?