Arts on Sunday for Sunday 17 July 2011
12:40 Entrance fees for the AFTA Film & Television Awards
Mike Riddell, whose story was turned into the popular independent film Insatiable Moon, says the new look film awards are discriminating against films like his made without Film Commission funding. We hear both sides of the argument.
Watch the trailer for Insatiable Moon.
1:00 At The Movies
Simon Morris reviews Kung Fu Panda 2, and two films about industrial relations - the serious The Company Men and the far-from-serious French comedy, Potiche (Trophy Wife) starring Catherine Deneuve.
1:30 A new opera by Jenny McLeod, Hōhepa
Sarah Brodie is the director of Hōhepa, the first of the homegrown shows to be commissioned for the New Zealand International Arts Festival in Wellington this year. It's an opera based on the life of Māori chief Hōhepa Te Umuroa who was transported to Tasmania.

Left:  Phillip Rhodes is seen here in the title role of Hohepa. Right: director Sarah Brodie.
1:40 Mrs Carey's Concert
A fly-on-the-wall documentary about an Australian music teacher's determination and the transforming power of music.
1:50 Canterbury-based artist Gennie de Lange shares with us the intricacies of glazing
2:00 The Laugh Track
Christchurch Court Jester, Court Theatre publicist and blogger, Jeff Clark.
2:20 Shelly Bay Artists
An old, run-down navy base has become the perfect setting for a community of artists on Wellington's coastline.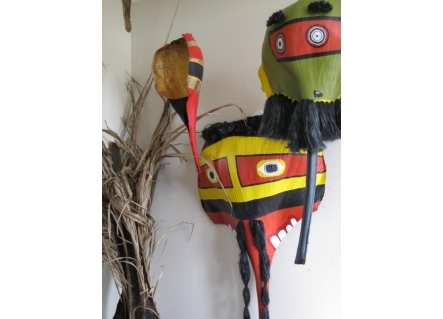 Secret Society by Shelly Bay artist James Harcourt.
2:30 Chapter & Verse
American poet, Lesley Wheeler, with her impressions of the New Zealand poetry scene.

2:50 US Independent Booksellers of the Year, Becky Anderson
An insight into the American book industry with one of the international guest speakers at this weekend's Booksellers New Zealand conference. Becky Anderson (right) is the fifth generation of an Illinois family which runs a drug store and bookstore combined.
3:00 The Sunday Drama
Sketch, a provocative work by a Japanese installation artist looks at the nature of truth and art as well as family relationships.
Audio for this drama will be available here after broadcast.