Arts on Sunday for Sunday 29 May 2011
12:40 Playwright and Hollywood screenwriter John Logan
John Logan (right) has Gladiator, The Last Samurai and the new James Bond movie on his CV. His play about American artist Mark Rothko is about to be seen in New Zealand.
12:50 A new option for the country's future acting hopefuls with the announcement of a new theatre course in Auckland
1:00 At the Movies with Simon Morris
Simon pops along to the fourth Pirates of the Caribbean. There are also two nostalgic English films - a remake of the Graham Greene thriller Brighton Rock, and an old-fashioned ghost story, From Time to Time.
1:30 Arts graduates
We reconvene our group of first year graduates who are making their way in the world and in their chosen art field - and discover some very mixed fortunes in their first few months as professionals.


Arts graduates, from left: Danielle Lindsay, Andy Parsons, Selina Foote, Simon Leary and Simone Kaho.

2:00 The Laugh Track
Actor Paul Barrett (right) ahead of his show Tic Tic opening in Auckland.
2:20 Antiques -the good the bad and the ugly
Sonia Sly gains an insight into the world of antiques - the changing trends, the jaw dropping excess and some mantras to live by when it comes to haunting the auction rooms.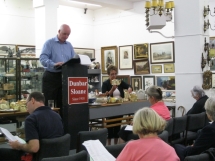 Left: Anthony Gallagher auctioneer extraordinaire at Dunbar Sloane.
Right: Peter Wedde of Peter Wedde Antiques displays a rare treasure.
2:30 Chapter & Verse
Our featured writer today is Sarah Quigley, who sets her novel, The Conductor, in Leningrad during the German siege of June 1941. Dimitri Shostakovich struggles to finish his Leningrad Symphony under horrendous conditions.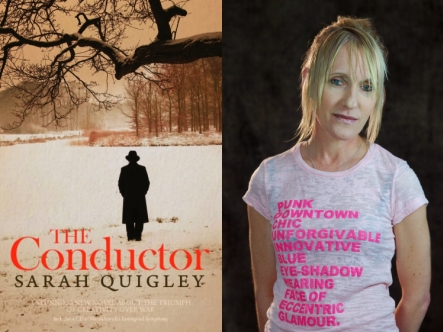 Photograph of Sarah Quigley by Sebastian Schrade.
2:40 World champ accordion player, Grayson Masefield
We find out what it takes to become the world champion accordion player, when we meet France-based Kiwi Grayson Masefield (below).
2:55 Kate Ward-Smythe reviews Auckland's Silo Theatre production of The Brothers Size

Pua Magasiva, Jarod Rawiri and Te Kohe Tuhaka in The Brothers Size.
3:00 A History of the World in a Hundred Objects (BBC)
This week, the period from 1200 to 1400 AD.