Arts on Sunday for Sunday 27 March 2011
12:40 Turning actual DNA into a painting
The Art of Science is the name of the Royal Society of New Zealand and New Zealand Portrait Gallery's turning exhibition.
See some of the portraits in The Art of Science gallery.

Geophysicist / President of the Royal Society of New Zealand, 1985-1989. Trevor Hatherton, painted by W A (Bill) Sutton, oil on canvas, 1989.

12:50 New Zealand's place on the World Music stage
We talk to Ben Mandelson (right), one of the key figures in the biggest world music expo, Womex. We ask him what qualifies as world music and what doesn't, and if New Zealand is going about marketing itself the right way.
1:00 At the Movies with Simon Morris
Simon talks to the director of Get Low, starring Robert Duvall and Bill Murray. He also looks at two rather more cerebral sci-fi movies than usual - the British Never Let Me Go and the American Limitless.
1:35 Roxy Cinema
A high level of detail and artistry has gone into creating the Roxy Cinema in Miramar, Wellington. Located in the film industry hub it's also headed by Oscar-winning editor Jamie Selkirk and Weta Workshop Manager,Tania Rodger. Together with a creative team of artists they're bringing glitz and glamour back into cinema-going.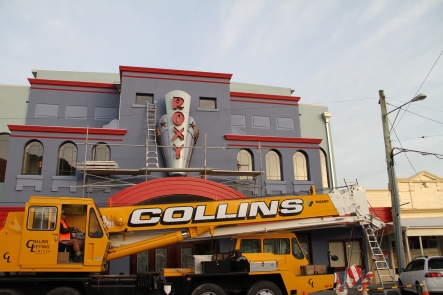 Roxy Cinema sign is lifted after delivery from Weta Workshop, Friday 25 March 2011. Photograph by Kat Horton.
1:50 Ice Music
British composer Julian Evans has picked up the mantle of his arctic explorer grandfather by visiting the ice….then doing his own thing by creating giant musical ice flutes and recording the wildlife for sound installations.

Left: Teddy Evans circa 1914. Right: Julian Evans looking at his grandfather's bunk in the Terra Nova Hut at Cape Evans Antarctica.
2:00 The Laugh Track
Veteran comedian, Andrew Clay (right), one of the acts who've volunteered themselves for a comedy fundraiser for Christchurch.
2:25 Seat Assignment
While most of us dread long distance flights, visiting New York artist Nina Katchadourian had made art work on planes using only her camera phone, her formidable imagination... and a lot of time in the toilet cubicles. The exhibition that's been created by her photos are on show at the Dunedin Public Art Gallery.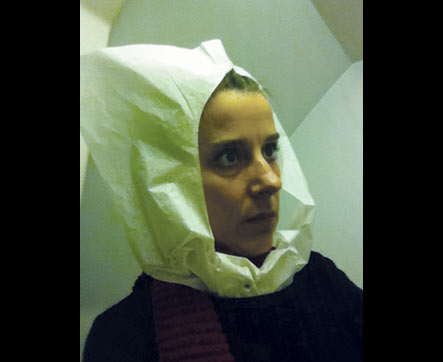 2:35 Chapter & Verse
Our featured writers are poet and novelist Emma Neale, talking about her new novel Fosterling, and editor and poet Sibohan Harvey who looks at life as a migrant in her new collection, Lost Relatives.

2:50 Vietnamese-Australian pianist Hoang Pham
A chat to Vietnamese-Australian pianist Hoang Pham (right) who was 'discovered' playing an electronic keyboard when he was just four. Hoang is a guest at the New Zealand International Piano Festival in Auckland next month.

3:00 The Sunday Drama
The 2011 Go Solo Special, featuring three works originally written for the stage by graduating students at Toi Whakaari and adapted for radio.