Arts on Sunday for Sunday 1 August 2010
12:40 2011 Rugby World Cup
We find out more about the arts and cultural contributions to the 2011 Rugby World Cup from the woman overseeing the sporting event's cultural side. And we'll hear from a couple of centres who're ahead of the game with their arts and entertainment plans.
1:00 At the Movies with Simon Morris
Simon looks at film's two extremes - mega-blockbuster Inception and the low-budget New Zealand shorts.
1:30 Unfinished
Lucy Orbell canvasses artists' takes on what prevents them from finishing their work, and holding onto ideas.
1:40 Dog Sees God
The Charlie Brown comic characters have be turned into angsty teenagers in a play that's about to have its New Zealand premiere - Dog Sees God.
1:50 Exhibition Review
Athol McCredie casts his eye over an exhibition of family portraits snapped by the country's top photographers.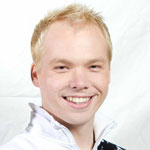 2:00 The Laugh Track: Chaz Harris
Chaz Harris is behind an online comedy series "101 Dates" which premieres next week... he plays some of his favourite net based comedy tracks and talks about how the net has changed the comedy scene.
2:20 Dame Kate Harcourt
Dame Kate Harcourt prepares to hit the road again, treading the boards around the country.
2:30 Chapter and Verse
Our featured books today are both debuts - a novel from UK based Kiwi Nicholas Edlin set during the Second World War when Auckland's Victoria Park was turned into an American military camp… and Lynn Jenner's first poetry collection, Dear Sweet Harry.

2:50 Eve de Castro-Robinson
Composer Eve de Castro-Robinson on her new work for counter tenor and choir.
3:00 Radio Drama: The Big Melt by Stuart Hoar
The final of this year's WorldPlay season comes from New Zealand.