Arts on Sunday for Sunday 29 November 2009
29 November 2009
12:40 Mark Amery
The director of the playwriting agency Playmarket responds to criticism levelled at it by Silo theatre's Oliver Driver, who suggested theatres are better placed to develop scripts.
12:50 Mercury Theatre
We look into the imminent sale of Auckland's old Mercury Theatre, and at the lobbying going on to get the city council to snap it up.
1:00 Movies
Interviews from the BBC including a chat with Kiwi director, Jane Campion about her latest film, Bright Star.
1:30 Lucy explores the cool stores at the Film Archives, which is now officially bulging at the seams
1:40 Warriors of Brazil
We find out how a Brazilian dance show has rescued many of its stars from a life of crime in the ghettos and about the fascinating life of UK-based producer, Toby Gough.
1:50 Filmmaker Gaylene Preston
Gaylene Preston talks about her ongoing and upcoming projects, and appearing in Deborah Shepherd's book of conversations with New Zealand women.

The book launch of Her Life's Work: Conversations with Five New Zealand Women. Gaylene Preston, third from right. Photograph by Kathryn Robinson.
2:00 The Laugh Track with actor Jeremy Randerson
2:20 Red Studio
Dunedin printmaker John Robinson on 30 years cutting and carving lino.
See images of John's work in the Arts on Sunday gallery.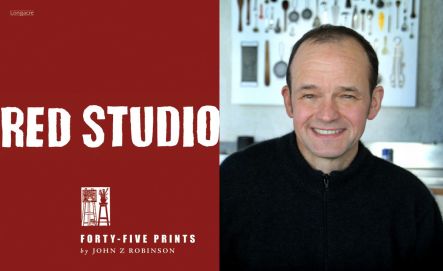 2:30 Chapter and Verse
Vanda Symon continues her detective series starring Sam Shephard…..and Jenny Haworth sets her new novel in Paris just after the Armistice.
2:50 Following the Blue Ribbon
New Zealand/Dutch artist Gerda Leenard's way of creating the sense of sailing along China's Li River.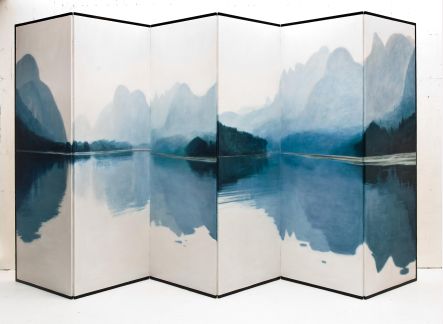 Gerda Leenards, Blue Silk Ribbon, 2008-09
3:00 The Sunday Drama
A tender three-hander about co-dependency and moving on . . . That's Trying by Erin Browne, winner of the 2009 International Radio Playwriting Competition.