Arts on Sunday for Sunday 15 November 2009
15 November 2009
12:40 British film producer Gareth Wiley
Gareth Wiley has four Woody Allen films on his CV and is currently in New Zealand working on the UK-NZ Co-pro movie Tracker starring Ray Winstone.
12.50 Boutique Theatre
Auckland's Silo Theatre harks back to the Theatre Corporate days of pushing the theatrical boundaries and reintroducing the ensemble model. You'll hear the full story from Silo's Oliver Driver.
1:00 At the Movies with Simon Morris
Heath Ledger's last film, The Imaginarium of Doctor Parnassus. My Sister's Keeper offers some surprises - like a dramatic role for Cameron Diaz, and a completely different ending from the book. And Michael Moore takes on the whole American system with Capitalism a Love Story.
1:30 The Cabinet Makers
From an illustrated scent bottle to furniture, photographs to formal and informal portraits, all of New Zealand's 40 premiers and prime ministers get together in a new exhibition in the Capital, at Shed 11. Gavin McLean talks about curating The Cabinet Makers.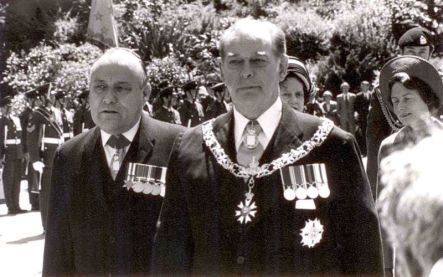 Muldoon with Holyoake as Governor General - National Publicity Studios (Private Collection). Mrs Muldoon and Lady Holyoake are in the background. 1977.
1:40 Lucy Orbell signs up for National Novel Writing month - or nanorwimo
1:50 mozart & ME
A theatrical look at the life of one of the world's greatest and most scandalous librettists, Lorenzo de Ponte. The show is coming to New Zealand from Australia, we talk to its star bass Damien Whitely (left) and to writer Melvyn Morrow.
2:00 The Laugh Track
Comedienne, commentator and marriage celebrant, Pinky Agnew.
2:20 The Word Witch
Margaret Mahy's magical verse is collected into one magical book by editor Tessa Duder and illustrator, David Elliot.
2:30 Chapter and Verse
Laura Soloman releases her latest novel about a giantess, An Imitation of Life, and New Zealand writers share some of their childhood memories in a book edited by Graeme Lay called Way Back When Before We Were Ten. You'll hear from Graeme and one of the contributors, Kevin Ireland.
2:50 New York-based dancer Richard Chen See
A star of the Paul Taylor Dance Company, Richard Chen See (below left) is currently working with our School of Dance graduates on their end of year show.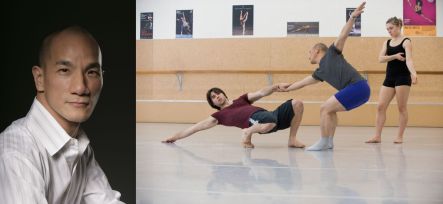 Photograph of Richard Chen See by Tom Caravaglia
3:00 The Sunday Drama
The conclusion of Roger Hall's comedy, Who Wants to Be 100? Anyone Who's 99.