Arts on Sunday for Sunday 1 November 2009
1 November 2009
12:40 Banned books
Donald Kerr curator of the Heresy, Sedition, Obscenity: The Book Challenged exhibition at the De Beer Gallery, Dunedin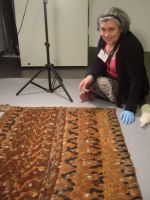 12:50 Korowai
Dr Patricia Te Arapo Wallace (right) talks to Lynn Freeman about her trip to the United States where she found a treasure trove of Māori cloaks.
1:00 At the Movies
Simon looks at what's happened to food in America. Julie and Julia is a tribute to cooking legend Julia Child - starring acting legend Meryl Streep. Food Inc. shows that farming today is more like an industrial production line. And Surrogates portrays a world in which everyone does everything online.
1:30 MashPit Comedy
TV sirector Bevin Linkhorn (left) talks about a new kind of comedy for television.
1:40 Crows Feet
Wellington dance Company Crows Feet celebrates its 10th birthday - Lucy Orbell investigates.
1:50 Shared Harmonics
Artist, musician and sculptor Michael Smithers and producer Tony Hiles talk about their joint project capturing Michael's journey to complete his unfinished works.
2:00 The Laugh Track
Featuring the third part in our four-part, high-risk comedy-competition series, Stand Up and Be Counted.
2:20 Murray Khouri reviews the NZSO's final subscription concert for the year
2:30 Chapter and Verse
The extraordinary works of film-maker, sculptor, painter and poet - Len Lye
Len Lye 'Rainbow Dance' 1936 film still
And artist Chris Welsby, who is currently artist in residence at AUT's CoLab-Creative Technology Centre.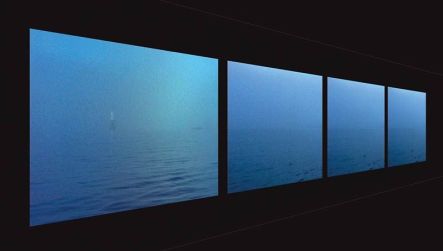 At Sea by Chris Welsby
3:04 Alan Scott reviews The Court Theatre's production of Backstage
3:08 The Sunday Drama
Cross Connection - a new play by Auckland writer Shirley Eliot.