Arts on Sunday for Sunday 11 October 2009
11 October 2009
12:40 Maori Art Market
The third Maori Art Market is being held at two venues in Porirua, Pataka Museum and the Te Rauparaha arena. The Market exhibits a range of contemporary Maori art, New Zealand art, and works by other first nation artists. Lucy Orbell went along as the sites were being set up.
12:50 What counts as a great New Zealand film?
Hamish McDouall, the author of 100 Essential New Zealand Films talks to Simon Morris about what counts as a great New Zealand film. Does it have to be shot here, to star New Zealand actors, even to be New Zealand-financed?
1:00 At the Movies
This week Simon is favourably disposed towards three films - political satire, In The Loop… award-winning Australian art-film Samson and Delilah… and a new American break-up comedy-drama, 500 Days of Summer.
1:35 Auckland Architecture Week
Today is the first day of the Auckland Architecture Week. It's the third time Auckland's design and buildings have been examined, celebrated, and debated. Lucy Orbell talked with the organiser of the event - and chair of the Auckland branch of the New Zealand Institute of Architects - Christina van Bohemen.
1:40 2009 Forte - Solo Series
Lyne Pringle casts an expert eye over this years' Footnote Dance Company commissioned solo works for choreographers and dancers. It's the 2009 Forte - Solo Series, which travels to the City Art Rooms in Auckland tomorrow before heading to Tauranga's Baycourt Theatre.
1:50 Stop-motion animation
In an age of digital 3D animation and computer-driven special effects, one of the oldest animation techniques - stop-motion manipulation of models - is still very much a part of the industry… Kiwi animator Antony Elworthy talks about the technique with Simon Morris
1:55 Mark Westerby reviews Miranda Harcourt and Stuart McKenzie's latest play -Biography of the Skin
2:00 The Laugh Track: Rhys Darby
2:25 Atarangi Whenua
Auckland painter Penny Howard and poet Doug Poole have combined their artistic endeavours to create Atarangi Whenua - literally, Shadow Land - a fusion of their respective cultures as works of art and poetry. They describe the concept to Simon Morris.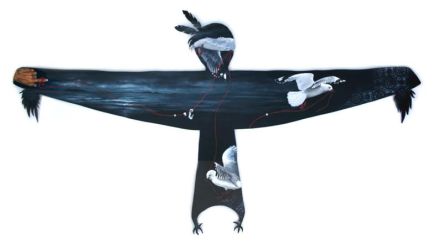 Manutukutuku o Tangaroa by Penny Howard
2:30 Chapter and Verse
Katherine Mansfield competition winner Alice Miller (below right) and author Tania Roxborogh (below left), author of Banquo's Son... a kind of fictional sequel to Macbeth.

2:50 The Undrawn
New Zealand neon artist Paul Hartigan has recycled rare glass from the 1930s to create whirling neon tubes of light that the publicity describes as looking like alien artifacts. Lynn Freeman talks to the artist about his exhibition The Undrawn which opens on Tuesday at Auckland's Artist Gallery in Parnell.
Colony by Paul Hartigan, 2004
3:00 The Sunday Drama
Two productions from the 2009 BBC African Performance season; from South Africa, Home Sweet Soweto Home, and No More Redemption Songs from Ghana.