Arts on Sunday for Sunday 13 September 2009
13 September 2009
12:40 La Fine del Mondo
Lucy Orbell chats to photographer Edith Amituanai about her latest installation, La Fine del Mondo. It's a collection of portraits of a Burmese family resettling in Auckland, complemented by Film Archive footage of the immigrant experience in New Zealand.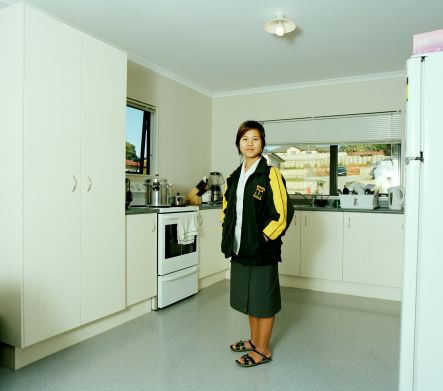 Image by Edith Amituanai from La Fine del Mondo
12:50 World Press Photographic Exhibition
Media commentator Colin Peacock assesses the year's best press photographs now on show at the World Press Photographic Exhibition in Wellington.
Photograph by Callie Shell from the World Press Photographic Exhibition
1:00 At the Movies with Simon Morris
Simon looks at one of the most surprisingly attractive movies of the year - The Soloist starring Jamie Foxx and Robert Downey Junior.
1:30 Opera star Kirsten Darragh
Kirsten Darragh (right) started out as a TV ad child star - now she's headed for international stardom in the world's opera concert halls. She's about to star as Olga in Eugene Onegin for NZ Opera.
1:40 Body
Stephen A' Court is mad about dance - not performing it himself but photographing it. Sonia Yee chats to Stephen about making multi-dimensional dance work as a one-dimensional image.
Images by Stephen A' Court
1:50 The Bird Wife
The ancient art of embroidery gets a revival at the hands of Jane Siddall from the Waikato, who's used the folk tale The Bird Wife to create a series of miniature masterpieces.
2:00 The Laugh Track
Gemma Gracewood - TV producer of New Artland on TVNZ7 and member of the in demand ukulele star.
2:20 The Box Woman
An insight into Brazilian theatre with the arrival in New Zealand of a production about a woman who has a magical box for a head. We meet actress Joana Curvo.
The Box Woman can be seen on Sunday 13 September at Te Papa at 10 am, at TheNewDowse in Lower Hutt at 1pm, on Tuesday 15 September at 1 pm at The Quad at Victoria University, and the next day at 12:30 in Midland Park in Wellington.
In Auckland the show is on Thursday 17 September at 12:45 at the Plaza at Auckland University, and finally the next day at Britomart at 5:30pm.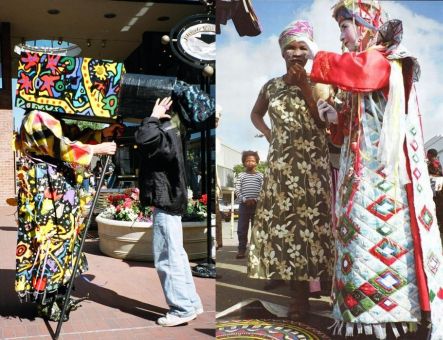 Brazilian theatrical play The Box Woman
2:30 Chapter and Verse
She's still in her teens but already Cantabrian Charlotte Trevella has won national awards, international attention and has published her first book of poetry, Because Paradise.
And Joanna Orwin's New Zealand historical novel, Collision, looks at the culture clash between early French explorers and Maori in the Bay of Islands.
2:50 Lucy looks at a play with an underlying message of hope for people who self-harm
3:00 The Sunday Drama
Jean and Richard - a fantasy by Mervyn Thompson that brings together New Zealand's most famous aviators, Jean Batten and Richard Pearse. Incidentally, this week marks the centenary of Jean Batten's birth.